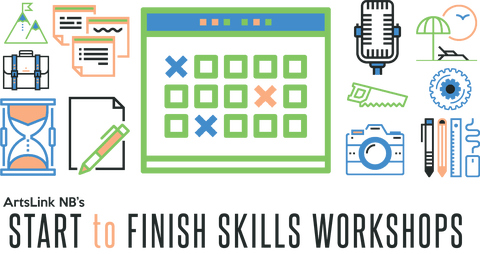 ArtsLink NB has announced the first instalment of their skills workshop series: Start to Finish, which will take place on June 21st in Fredericton.
Start to Finish Skills Workshops: Document Your Work
This workshop aims to give artists hands-on experience with producing professional quality documentation of their works, through affordable or free technology.
This two-part workshop will include sound and music recording in the morning, followed by an afternoon of visual documentation for two and three-dimensional work. Topics include multitrack recording, sound editing, lighting techniques, ideal camera settings, and more. Registrants will have the option to attend one or both parts of this day-long documentation intensive.
Sound session:
The morning session will focus on an overview of affordable software, instruction on recording equipment and much more.
**If you have a field recorder you typically use, bring it to the workshop.
Visual works session:
The afternoon session will include a lesson in lighting works, ideal camera settings, tips for recording three-dimensional work, and more.
**If you have access to a camera, bring it to the workshop.
Workshops are FREE for ArtsLink Members, and $50 for non-members. Memberships with ArtsLink start at $25 – sign up today!
For further details or to ask questions, please email: julie@artslinknb.com; Please inform them of any food allergies.
NOTE:
All workshops require a $10 deposit. This deposit will be returned to ArtsLink members upon workshop attendance. Non-members will be required to have a payment method prepared for the balance of the cost of the workshop.
The workshop will be held on June 20th in Florenceville-Bristol, June 21st in Fredericton and June 28th in Sussex.
For more information visit the ArtsLink NB website.
The post ArtsLink NB's Start to Finish Skills Workshops appeared first on Giv'er Saint John.