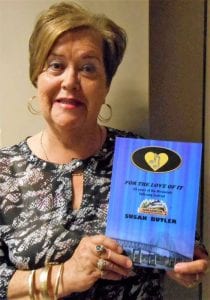 by James M. Fisher, The Miramichi Reader
The Miramichi Folksong Festival has been held continuously for 60 years now, making it the longest standing folk song festival in Canada. Its director (and a performer) of the past 35 years is the irrepressible Susan Butler, a true "Miramichier" if there ever was one. Now, she has compiled the Festival's history as well as her own in a self-published book entitled For the Love of It: 60 Years of the Miramichi Folksong Festival. 
It also ties in nicely with the Canada 150 celebrations, for the prime mover behind the eventual founding of the Festival was none other than Chatham native Max Aitken, (Lord Beaverbrook) who commissioned his friend Louise Manny to go out and collect the folk songs of the Miramichi region.
"It took me five years to get myself organized to write it but I felt it was time to document such an institution."
From its small beginnings as an open mic event (no instruments were allowed) to its resurgence in the Butler years, the Miramichi Folksong Festival has hosted acts large and small, from across the ocean and the U.S. as well. It runs for 5 days and features 5 days of "authentic, traditional and contemporary music" for the whole family!
The true value of For the Love of It lies in the reminiscences of Ms Butler and several others, photographs (B&W and colour) of past participants and volunteers as well as a fine introduction by Miramichi author Wayne Curtis. Many of the names included in the book will be familiar to Miramichiers and Festival attendees alike.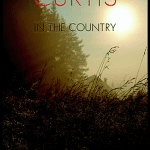 One particularly poignant story is that of festival regular Perley Hare, who after performing one night in 1988, crossed the street to the Black Horse Tavern for a drink and promptly dropped dead. Ms Butler was soon informed of his passing, but she stoically kept on with the evening's program, even though it was difficult to maintain composure. "Perley certainly left a legacy. Since that evening in 1988, the festival remembers and celebrates the life of Perley Hare with a Kitchen Party at the Black Horse Tavern" where a toast is drunk to Perley.
A book of approximately 135 pages, For the Love of It is well worth the price of $20.  It is a labour of love by Ms Butler, as is the Festival itself. It can be purchased at Mill Cove Coffee, Jean Coutu, Pharmasave, Crockers and Brookdale Flowers in Newcastle and in Chatham at Kingston's Car Wash on the corner of Cunard and Wellington.
Miramichi Folksong Festival website: http://www.miramichifolksongfestival.com/
Facebook page: https://www.facebook.com/MiramichiFolkSong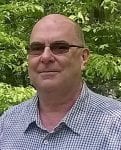 James M. Fisher lives in Miramichi. James is an ardent reader whose aim is to highlight New Brunswick authors and publishers, as well as cover subjects of interest to New Brunswickers in particular and Maritimers in general. For more visit his website or like his page on Facebook.
The post Book Review: "For the Love of It: 60 Years of the Miramichi Folksong Festival" by Susan Butler appeared first on Giver on the River.