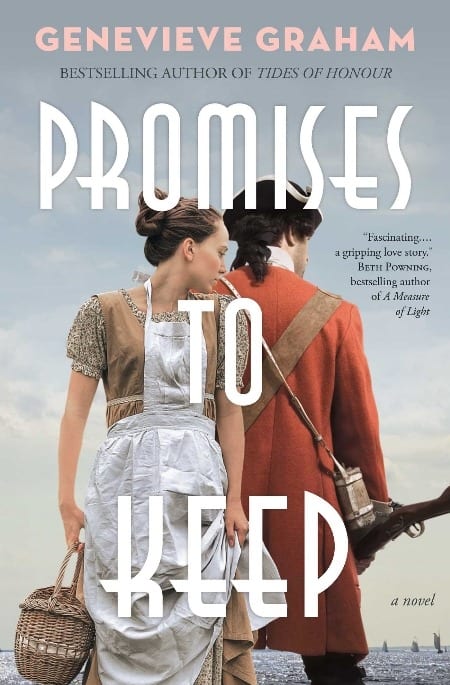 by James M. Fisher, The Miramichi Reader
Set during the time of the Acadian expulsion in 1755 ("Le grand dérangement") from what is now Nova Scotia. Promises to Keep (2017, Simon & Schuster) contains a stronger, deeper story than its romantic cover art might suggest. While there is a strong attraction between the Acadian girl Amélie Belliveau and the English army Corporal Connor MacDonnell, there is little time for any romance for the English army is determined to rid their newly acquired territory of the Acadians as soon as possible. A peaceable people, the Acadians refuse to swear allegiance to the English King and want nothing to do with the French army either. Nevertheless, the Acadians are seen as French sympathizers by the English and likely to take up arms against them if they are allowed to remain in Acadia. These proud, stubborn people must be forcibly removed.
This is the state of turmoil that gives PROMISES TO KEEP its basis for conflict. Connor, while he is serving with the English army, is a Scot, who recently had his own homeland conquered by the British. Amélie, who doesn't understand what is soon to befall her people, finds a degree of kindness and trustworthiness in Connor that attracts her, yet she is cautious since the English have not treated her people respectfully since they arrived in Grand Pré. Connor informs her that if she remains, she will be shipped away from her land so she must flee to the forest as her two older brothers have done and as the Mi'kmaq have already done. Despite this, Connor promises her that he will do whatever he can to keep her and her family safe throughout the coming days of distress.
I was extremely impressed with PROMISES TO KEEP. Ms. Graham's previous historical novel, Tides of Honour, was a Globe & Mail bestseller, and this one should fare just as well. To date, there has been very little written about the Acadian people from a fictional aspect and she does an excellent job of recreating the racial tension between the French Acadians and the English, the turmoil of upheaval from an established way of life that was idyllic to a certain degree, and the allegiances between the Acadians and Mi'kmaq that helped them to survive and exist to this day. A highly recommended read.
Genevieve Graham graduated from the University of Toronto with a degree in music in 1986 and began writing in 2007. She is passionate about breathing life back into history through tales of love and adventure, and loves the challenge of re-living Canadian history in particular. When Graham is not writing, she can be found relaxing with her husband and two grown daughters, teaching piano to children in the community, or tending the garden along with a friendly flock of heritage chickens. She lives near Halifax, Nova Scotia.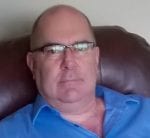 James M. Fisher lives in Miramichi. James is an ardent reader whose aim is to highlight New Brunswick authors and publishers, as well as cover subjects of interest to New Brunswickers in particular and Maritimers in general. For more visit his website or like his page on Facebook.
The post Book Review: "Promises to Keep" by Genevieve Graham appeared first on Giver on the River.