by James M. Fisher, The Miramichi Reader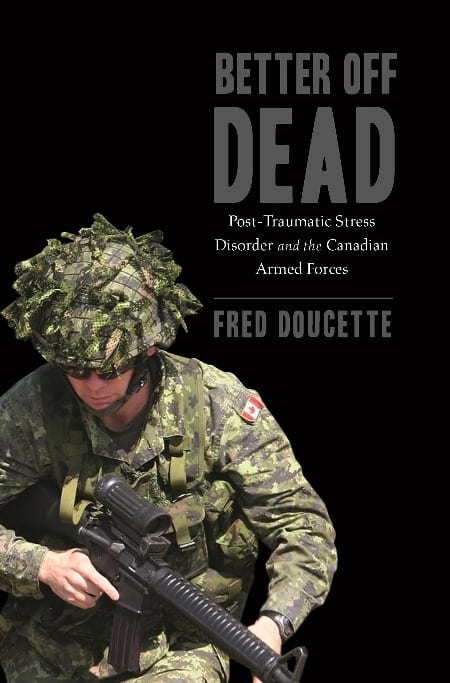 Nimbus Publishing has produced two excellent titles dealing with issues that have been in the national headlines for some time now: Post Traumatic Stress Syndrome (PTSD) in the Canadian Armed Forces and the Residential School system which attempted to erase the Mi'kmaw culture from young children.
Better Off Dead by Fred Doucette
Fred Doucette (who currently lives in Fredericton, NB) was medically released from the army for PTSD in 2002. Since then, he has worked with soldiers and veterans and their service-related psychological disorders. As such, he is in the best position to deal with this debilitating disorder since he has been on both sides, as the victim and as the one responsible to guiding others to find relief. Mr. Doucette states that "Soldiers do not mince words" and as a veteran, neither does Mr. Doucette. The writing (and language) is straightforward and damning, especially of the Canadian Armed Forces and Veteran's Affairs:
"I can summarize my ten years with OSISS (Operational Stress Injury Social Support) by saying that dealing with the soldiers and veterans was the easy part of the job. Dealing with the CAF and the VA was extremely frustrating and demoralizing." Fred Doucette
Frustration is highlighted continually throughout the book: the CAF refuses to acknowledge PTSD is a problem, therefore the sufferer gets little or no support from his superiors (since they are viewed as trying to escape duty). Additionally, Mr. Doucette as a social worker is frustrated because the people he is trying to help often say they don't need it. He then is on the sidelines as he sees families fall apart and the victim sink lower and lower into depression and substance abuse.
I went through this book with a highlighter, I was learning so much about PTSD and life inside the CAF. Some points I gleaned:
PTSD is not a problem while deployed. The problem surfaces when the soldier comes home and tries to return to "normal" life
as of 2014, there is no CF-wide education program on any aspect of mental health
sexual violence is the primary factor for PTSD among female soldiers (operational female soldiers are more afraid of their peers than they are of the enemy)
I found Better off Dead a frank and astonishing read, especially since I was not that familiar with PTSD before reading this book. If you want an insider's view of this debilitating and vastly unrecognized disorder, I recommend this excellent book.
Indian School Road by Chris Benjamin
I had read a previous book (of fiction) by Halifax author Chris Benjamin, so I was quite interested to read his probing look into the Residential School system, focussing on the Shubenacadie School in Nova Scotia, which was closed in 1967, after nearly 40 years of operation. Again, as I was with the issue of PTSD, I was unfamiliar with the concept of the Residential School and all the airtime given to it in recent years. Another recent read, Wake the Stone Man partially dealt with the fictional account of a girl who had escaped a residential school, but until then I had never taken any pains to become informed on the subject. This is the great thing about reading: one thing can lead to another. Doors are opened; the mind expanded. Conceptions altered.
Mr. Benjamin, who is quite passionate about Aboriginal affairs has exhaustively compiled a text-book quality insight into yet another of Canada's great shame in the mistreatment of its indigenous people. Notwithstanding his personal views, I believe he has managed to keep a fairly straight-down-the-centre approach to the issue; using interviews and documents from both sides of the issue to flesh out the story, which is one of "[cultural] extermination by assimilation". In just over 200 pages, Mr. Benjamin has masterfully covered the issue from the life of the Mi'kmaq before Shubenacadie (they were very advanced as a culture) right up to the present day, including attempts at reconciliation based on the recommendations of the TRC (Truth and Reconciliation Committee).
Again, armed with a highlighter, I found many sad-but-true facts:
at least 3000 children died while in the residential school system
by 1944, only four of 146 students had made it to Grade Six (proving that education was not the main goal of the system)
the schools were expensive, complex, increasingly controversial and ultimately useless (the last one, in Saskatchewan, closed in 1996)
a legacy of the residential school system: nearly 25% of all Canadian prisoners are aboriginal, while only 4.3% are Canadian
to this day, First Nations schools get less money per person than provincial schools, and no money for "extras" like computers, libraries or language training
Especially poignant are the survivor's stories, how they were taken away from their families at a young age, not allowed to speak their native language, or even mix with their siblings of the opposite sex. They may not have been able to see their families for years, and when they did, they felt like they no longer belonged. Hence, their turning to drugs, alcohol and other self-destructive ways of life in order to try to cope and erase the pain of living for years under the harsh rule of the Catholic Church and the Nuns who taught there while confined to the school like a prisoner.
Newly elected Prime Minister Justin Trudeau appears to be genuinely concerned with the plight of indigenous people, and in a recent announcement, "vowed to implement all 94 of the recommendations from the Truth and Reconciliation report, starting with the UN declaration on the rights of Indigenous Peoples." This appears to be good news for those concerned and hopefully the road to recovery will begin in earnest for all those affected by the wrongs of the past.
It took me some time to get through this book, not because it wasn't interesting to read (which it very much was), but due to the density of the material coupled with the overreaching sadness of it all. Despite this, I rated it 5 stars on Goodreads based solely on the research Mr. Benjamin has done in creating Indian School Road. I also compliment him for maintaining a professional tone throughout the book knowing he is very passionate about the injustices done to Canada's First Nation's people. Well done, Chris!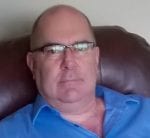 James M. Fisher lives in Miramichi. James is an ardent reader whose aim is to highlight New Brunswick authors and publishers, as well as cover subjects of interest to New Brunswickers in particular and Maritimers in general. For more visit his website or like his page on Facebook.