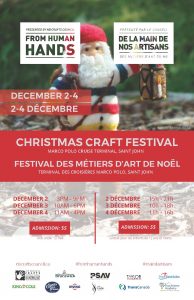 Looking for high quality, handmade gifts this holiday season? New Brunswick's premier fine craft festival, is coming to Saint John this Friday, Saturday and Sunday (December 2nd, 3rd and 4th) at the Marco Polo Cruise Terminal!
Showcasing fine craft by New Brunswick master craftspeople working in glass, leather, pottery, jewellery, metalworks, fine art, wood, fibre, basketry and more! All craft vendors are Juried Members of the New Brunswick Crafts Council and their work has been validated by their peers, ensuring high-quality, handcrafted products.
Find unique works made in New Brunswick, meet the makers, try your hand at craft processes, and celebrate New Brunswick creative skill.
Plus awesome extra programming, including kid's craft corner by Touchstone Academy , a Cool Santa Photo Booth for kids, good food, live music and much more!
Festival Hours
Friday, December 2nd: 3–9 pm
Saturday, December 3rd: 10 am – 6 pm
Sunday, December 4th: 11 am – 4 pm
Admission: $5 (kids under 12 are free; free parking included)
Performers Schedule:
Friday December 2nd
4:30-5:30 pm East Coast Carolling
6:30 pm Cake!
7-8 pm Studio Dance School
Saturday December 3rd
10 am – 12 noon Santa Claus photo booth
12 noon – 1 pm Jessica Rhaye
1-3 pm Santa Claus Photo booth
2:30-4:30 pm East coast carolling
5-6 pm Studio Dance School
Sunday December 4th
11 am – 1 pm Santa Claus Photo booth
12 noon – 1 pm Mike Biggar
1:30-2:30 pm Rothesay-Kings Rotary Girls Choir
2-3 pm Santa Claus Photobooth
2:30 pm Santa reading The Night Before Christmas
The Marco Polo Cruise Terminal is located at 111 Water Street in Saint John, NB.
Come meet the award winning craftspeople and support your community this holiday season!
For a current list of craft vendors and community partner booths visit the Facebook event page. For more information visit the website.
The post Christmas Fine Craft Festival appeared first on Giv'er Saint John.