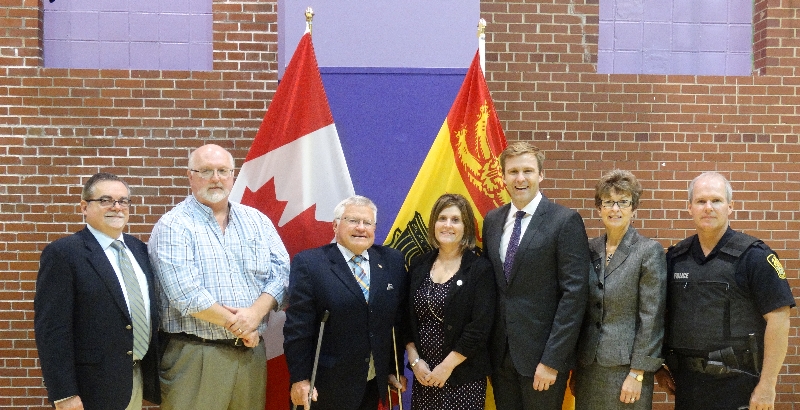 The Integrated Service Delivery model for providing mental health, addiction, intervention and social services to children and youth will expand to another 112 schools this fall, from Saint John to Sussex and in the Miramichi and Chaleur-Restigouche regions.
"To ensure our children are getting the education they need and deserve, we must offer them more support with regards to their mental health," said Premier Brian Gallant at St. John the Baptist / King Edward School in Saint John. "New Brunswick is a national leader when it comes to youth mental health, and today's announcement will deliver an innovative program to even more at-risk children and youth."
The Integrated Service Delivery model, offered at the community level, ties together services from the departments of Education and Early Childhood Development, Social Development, Health, and Justice and Public Safety. Children and youth may access the program through their school or another community service.
The provincial government implemented the model in 2011 in 34 schools in Charlotte County and the Acadian Peninsula. Since then, positive outcomes have been achieved and wait lists for services have been eliminated in these regions.
As part of the expansion, the government is investing $2.9 million in additional resources such as psychologists, social workers, co-ordinators and case management support.
"We made a commitment to expand the model provincewide by 2018," said Gallant. "We are taking another step toward accomplishing that goal by expanding to 146 schools, which is about 47 per cent of schools in New Brunswick."
The recent investment to develop a Centre of Excellence for youth mental health and the Health Department's work on the Network of Excellence aligns with the model's framework to ensure the right intensity of service at the right time.
Improving mental health services for children and youth is a critical component of the government's 10-year education plans, strategies for crime reduction and harm prevention, and the Mental Health Action Plan.
More information is available online.
The post Investment in mental health support in schools appeared first on Giv'er Saint John.