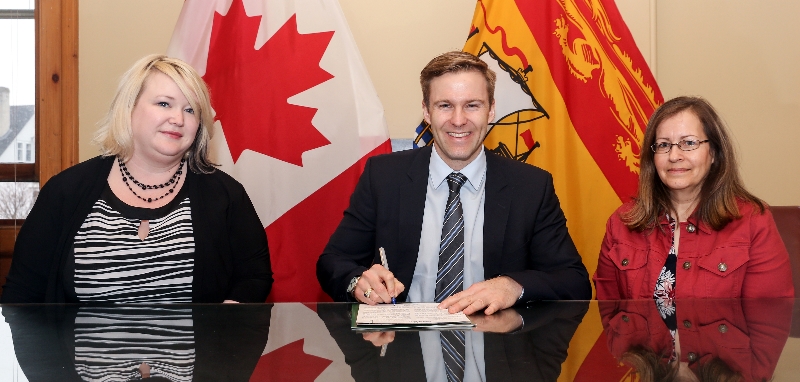 Premier Brian Gallant, who is also minister responsible for Women's Equality, is encouraging New Brunswickers to seek opportunities for awareness and education during Sexual Assault Awareness Month.
"Every community in New Brunswick has the power to create a supportive and responsive environment for victims of sexual violence," said Gallant. "We are working with partners to urge everyone to help create safe and respectful communities that challenge behaviours that promote sexual violence."
The theme for Sexual Assault Awareness Month 2017 is Don't Stand By, Stand With Survivors of Sexual Violence.
Gallant and Lorraine Whalley, executive director of the Fredericton Sexual Assault Centre, signed a declaration in the legislative assembly recently urging all residents to talk about the issue of sexual assault in their community in order to create a safer New Brunswick. Jennifer Richard, director of community development for the centre, also attended the signing.
"This year's campaign recognizes that everyone has a role in preventing and responding to sexual violence," said Whalley. "We invite each individual in all New Brunswick communities to make a difference by talking, learning, challenging, and organizing around the issue of sexual violence and sexual assault."
The Fredericton Sexual Assault Centre, through its Provincial Strategy on Sexual Assault Services, works with communities, service providers and government throughout the province to address and respond to sexual assault. The centre has been supporting women for more than 40 years through its 24-hour crisis line, counselling and education and awareness programs.
More information on the services offered through the centre can be found online.
As part of New Brunswick's Crime Prevention and Reduction Strategy, the Love Shouldn't Hurt campaign is educating and informing New Brunswickers about intimate partner violence. More information about the campaign and resources for victims is available online.
The post May is Sexual Assault Awareness Month appeared first on Giv'er Saint John.