MIRAMICHI – Once again this week, there is a slight improvement in the number of fish coming into the system, but still no great run. However, if slow and steady wins the race, we'll take it.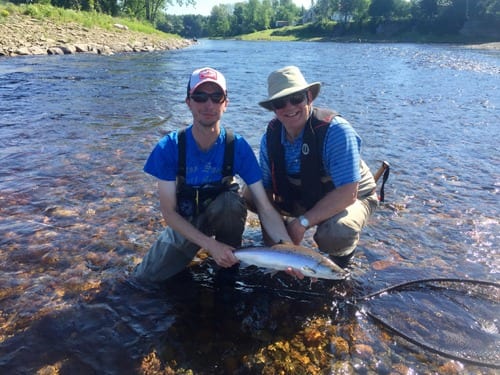 One concern is the striped bass which are spreading further and further up the river systems than ever before seen. Some have been found above Boiestown on the Southwest Miramichi and up to Wayerton on the Northwest Miramichi, and they are not sight-seeing. They are in search of food, including salmon fry and parr. There now seems to be a two-fold attack: the smolt when they migrate in the spring, and the parr/fry in the summer/fall. Are we bidding good-bye to our salmon and grilse?
W. W. Doak and Sons in Doaktown said there were some fish around, a few taking and an odd one being caught here and there. Generally, it is a bit slow. There seemed to be more stories about striped bass being found from above Boiestown
All the way down river. One camp between Doaktown and Boiestown caught six or seven in one day. A good rain would help the water temperatures which are beginning to warm.
Flies of choice were Same-Thing-Murrays, Glitter Bears, White-tailed Green Machines, Green Machines and Shady Ladies on nos. 6 & 8 hooks.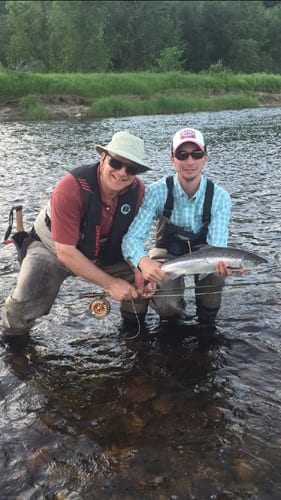 Andrew Anthony of Ledges Inn in Doaktown and Mountain Channel in the Rapids area said angling had been good the first of the week, but nevertheless, there were seeing fish each day, some with sea lice, and catching a few. Mountain Channel was also seeing fish moving through each day (any where from three to nine) but no great run. Fish were not holding, but were motoring right through. All fish caught at Ledges this week were grilse. Mountain Channel did have one female salmon to go with their grilse. Water was a good height and temperature was OK.
Flies of choice were Undertakers, White-tailed Green Machines, John Olands Stone Flies and Blue Bombers. The wets were sizes mostly nos. 10 & 12 with a few 8s.
Herb Barry Sr. of Herb's Fly Shop on the Station Road in Blackville said there were some fish going, particularly early in the week, and some were caught. The water was low, but rain Tuesday/Wednesday helped as the temperatures had been creeping up.
Flies of choice were Bear Hairs, Green Rats, Blue Rats, Same-Thing-Murrays and a variety of Bombers. The wets were mostly no. 8.
Curtis Miramichi River Outfitting in Blackville said there were a few fish going on the weekend, but it was slow on Monday and Tuesday. Generally there seemed to be more grilse than salmon. Water was a good height and a decent temperature.
Flies of choice were Same-Thing-Murrays, White-tailed Green Machines, Shady Ladies and Undertakers in wets on no 6 hooks, along with some Bombers.
Jim Laws of Miramichi Hunting and Fishing in Newcastle, Miramichi reported a few fish around with an odd one being caught. There were very few striped bass in the Miramichi proper as they have moved out after spawning, but they were spreading to parts of the river in which they traditionally not seen. The water had been getting down and warming, but rain Monday night and Tuesday helped.
Flies of choice were White-tailed Green Machines and Shady Ladies on No. 6 hooks, along with some dry flies and bombers.
Syd Matchett of Trout Brook Fly Shop on the Northwest Miramichi said angling was not too bad. Andy Landry picked up two grilse last Thursday and another on Friday. I enjoyed meeting Andy and his wife, Phyllis, again and fishing with them on Thursday. We shared some new stories and revisited some "old".
There were a few more caught and others seen. The water was a good height and temperatures were decent.
Derrick Sheppard from Fredericton purchased new wading boots from Syd, but he had to return them as the heel came off. When Syd asked what had happened, Derrick said the heel just came off as it was flawed. Syd surmised that when he hooked the salmon, it took off as he dug his heels into the gravel as a salmon pulled him down river, pulling the heel off his boot. Now, who would you believe?
Flies of choice were Shady Ladies, Green-butt Bear Hairs, and White-tailed Green Machines on nos. 6 & 8 hooks, along with some bombers.
Debbie Norton of Upper Oxbow Outdoor Adventures on the Little Southwest Miramichi said there were a few fish around and a few being caught. The Dave Flannigan party caught two fish on a home-grown pattern called (not surprisingly) "The Flannie". Miramichi Classic anglers picked up two fish on Tuesday. There were more salmon than grilse.
Each week was seeing slight increases in the accumulative counts. Water conditions were adequate.
Flies of choice were the Undertaker's Wife, White-tailed Green Machines, Shady Ladies, Walts, Same-Thing-Murrays and "The Flannie" on no. 6 hooks.
You may dream on the couch of catching a nice salmon or grilse, but to do so, you'll have to get out and "on the water".
---
Don't forget to show your support for our sponsors, because without them, this column would not be possible.  

ANY FINANCIAL CONTRIBUTIONS TOWARD HELPING WITH THIS COLUMN ARE GREATLY APPRECIATED.
Click here to donate now. Or to donate by mail, send to:
Doug Underhill
438 McKinnon Road
Miramichi, NB, Canada, E1V 6G2
A SPECIAL THANKS to all who made contributions last season.
If you would like to sponsor this column, give us a call at (506) 352-7668 or email support@mightycommunity.com.
---
Thought for the Week: "Fishing is not an escape from life, but often a deeper immersion into it."  – Henry Middleton
---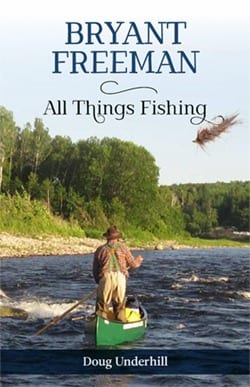 Bryant Freeman: ALL THINGS FISHING by Doug Underhill
NOW AVAILABLE in Stores
or from Doug Underhill
438 McKinnon Road
Miramichi, NB
E1V 6G2
or Bryant Freeman 1-506-386-6269
Cover price $19.95
Shipping to Canada $25.00 (Incl shipping & handling)
To US $30.00 (incl shipping & handling)
---
The Coalition for Better Salmon Management (CBSM) now has a website at salmonnb.com, which has been expanded and updated. It already has a membership over 1,000 and is a major voice for salmon conservation here in New Brunswick.
---
Email:
Photo Submissions by Elaine Gray
| | | |
| --- | --- | --- |
| Red Bank bridge | Deer on the Little Southwest | At Sillikers |
Atlantic Salmon Federation News
Fri., July 7, 2017
ASF RIVERNOTES – The Latest on Returns and Angling Reports
~~~~~~~~~~~~~~~~~~~~~~~~~~~~~~~~~~~~~~~~~~~~~~~~
2017 has been full of surprises so far – some good and some not so.
http://asf.ca/asf-rivernotes-july-7-2017.html
The Atlantic Salmon Journal goes digital
~~~~~~~~~~~~~~~~~~~~~~~~~~~~~~~~~~~~~~~~~~~~~~~~
No, we're not changing anything with the print magazine, but offering an additional way for people to read our award winning publication. The Summer 2017 issue of the Atlantic Salmon Journal is now open for all to share. Three articles, Happy 150th, Brave New World, and A Hundred years and Counting, have exclusive online extras.
http://viewer.zmags.com/publication/1b0ca329
Atlantic Salmon Conservation Has Lost a Great Friend
~~~~~~~~~~~~~~~~~~~~~~~~~~~~~~~~~~~~~~~~~~~~~~~~
Orri Vigfússon, who started the North Atlantic Salmon Fund (NASF) passed away on July 1. Read more.
http://asf.ca/orri-vigfusson-will-be-greatly-missed.html
Lewis Hinks on the Cheticamp in Cape Breton
~~~~~~~~~~~~~~~~~~~~~~~~~~~~~~~~~~~~~~~~~~~~~~~~
ASF's Regional Director for N.S. helps out with a children's fly casting workshop and appraises the state of new and modified pools on this important Cape Breton river.
http://asf.ca/news-from-the-regions.html
ASF Research Embarks on Pioneering Smolt Capture At Sea Expedition
~~~~~~~~~~~~~~~~~~~~~~~~~~~~~~~~~~~~~~~~~~~~~~~~
ASF Biologists are heading to the Strait of Belle Isle between Labrador and Newfoundland to attempt the capture of smolts and kelts to attach transmitters to follow them on through their migration.
http://asf.ca/research-in-the-field.html
Exploits River Salmon Count Down by 8,000
~~~~~~~~~~~~~~~~~~~~~~~~~~~~~~~~~~~~~~~~~~~~~~~~
The Exploits River in Newfoundland has vied for the title of most productive salmon river in North America in some years, but in 2017 the returns are extremely low so far. The question is whether the run is late, or just not there. Read more.
http://asf.ca/exploits-river-salmon-counts-down-by-8000.html
Project SHARE Seeks Permits for ME Salmon Habitat Improvement
~~~~~~~~~~~~~~~~~~~~~~~~~~~~~~~~~~~~~~~~~~~~~~~~
The U.S. Army Corps of Engineers is noting there is a call for input on Project SHARE planning to do habitat improvement work on the Sheepscot River and other rivers in Maine.
http://asf.ca/project-share-seeks-permits-for-me-salmon-habitat-improveme.html
~~~~~~~~~~~~~~~~~~~~~~~~~~~~~~~~~~~~~~~~~~~~~~~~
To keep track of breaking news on wild Atlantic salmon, use the Atlantic Salmon Federation's presence on Facebook. Log in, search for Atlantic Salmon Federation, and click "like".
---
Anyone wishing to report suspicious fishing activity anonymously is asked to contact the nearest Fisheries and Oceans Canada office or to call Crime Stoppers at 1-800-222-8477
Until next week
TIGHT LINES
DOUG
The post Miramichi Fishing Report for Thursday, July 13, 2017 appeared first on Giver on the River.