July is proving to have some fresh fish moving through each day, with a few days producing very good numbers, especially on the Southwest Miramichi.   Generally, the fish are moving rather than holding.
NOTE: Don't forget the meeting Sunday at 2 p.m. at the Newcastle Lions Center to discuss the striped bass and salmon situation.  A good crowd is expected.  Laws confirmed that both provincial and federal politicians will be in attendance as well as DFO.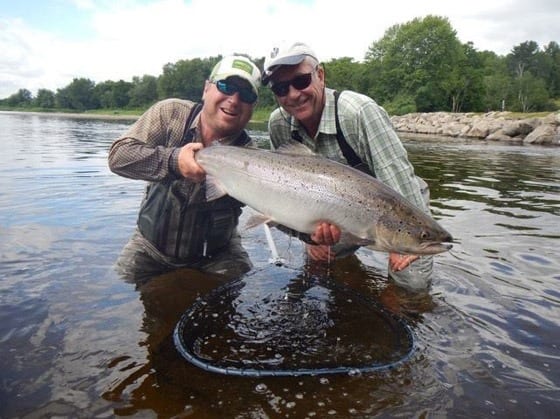 Doug White's Tammerack Sports Fly Shop in Juniper said angling was very quiet there on the river. They had a good raise of water but he hadn't heard if there was any fish on it or not.  Very few people fishing.
Flies of choice:  It was almost impossible to know as there was no one out.
W.W. Doak and Sons in Doaktown said fishing was good with some fish moving around.  Conditions were good.  One lady caught six fish over two days.  A man limited out Tuesday morning.  The fish seemed to be moving in pods rather than holding.   There was a good mix of salmon and grilse.  Generally, anglers were pleased.
Flies of choice were mostly wets such as Same-Thing-Murrays, Glitter Bears, Red-butt Bear Hairs, Green-butt Bear Hairs, None-of-your –Businesses, and Christmas Trees on no. 6 hooks in the Blackville area and 8 & 10s in the Doaktown area.
Derek Munn of Ledges Inn in Doaktown and Mountain Channel in the Rapids area said angling the last few days had been great in the Doaktown area.  They had received a decent raise of water.  On Tuesday they hooked 18 fish and landed 10 with more grilse than salmon.  Prior to that, they were averaging 3 to 4 a day.
Flies of choice were Conrads, Undertakers, Smurfs, Butterflies on no. 6 & 8 hooks along with some Bombers (blue & white and brown & white)
Herb Barry Sr. of Herb's Fly Shop on the Station Road in Blackville said angling there was pretty quiet.  Anglers were catching some and seeing some, but they were not holding or taking well. Water conditions were good.
Flies of choice were Preachers, Undertakers, Green Rats, Blue Rats, Smurfs, White-tailed Green Machines and Same-Thing-Murrays.
Curtis Miramichi River Outfitting in Blackville said angling was a little quiet, but the water was good.  Just the odd fish was being caught.
Flies of choice were White-tailed Green Machines, Shady Ladies, Same-Thing-Murrays, Green Highlanders, Rusty Rats and Bombers (white tails & green body and white & orange).
Jim Laws of Miramichi Hunting and Fishing in Newcastle, Miramichi said angling was a little quiet with some being seen and only a few being caught.  Water conditions were good.
Flies of choice were White-tailed Green Machines, Black Ghosts, Shady Ladies, Bugs and some dry flies.
Syd Matchett of Trout Brook Fly Shop on the Northwest Miramichi said fishing was certainly better than the previous week.  There were some fish being caught and some seen, but in no great numbers.  Elaine Gray had hooked two salmon on the Little Southwest Miramichi on a Glitter Bear, and raised a couple on an Itchy Pussy on the Northwest.  There were a couple caught on the Northwest below the Crown Reserve Stretches.  A good raise of water would certainly be welcome.
Flies of choice were Shady Ladies, Itchy Pussies, and Glitter Bears.
Debbie Norton of Upper Oxbow Outdoor Adventures on the Little Southwest Miramichi said angling was good.  They were catching some and seeing some.  Bob Christian from Michigan hooked five and landed two (a grilse and a 33-inch salmon) on an Echo Beach (His father Clint Christian used to work at MTR mill in Newcastle in the 1970s).  Other anglers also had some luck earlier in the week.  They said the Northwest was getting too low, but conditions on the LSW were good.
Fly of choice was the Echo Beach.
So with some fresh fish entering the system each day and decent water conditions, it is time to get out and "on the water".
Don't forget to show your support for our sponsors, because without them, this column would not be possible.  
Deals 4 U and Dream Cottage Lottery
ANY FINANCIAL CONTRIBUTIONS TOWARD HELPING WITH THIS COLUMN ARE GREATLY APPRECIATED. Click here to donate now. Or to donate by mail, send to:
Doug Underhill
438 McKinnon Road
Miramichi, NB, Canada, E1V 6G2
A SPECIAL THANKS to all who made contributions last season.
If you would like to sponsor this column, give us a call at (506) 352-7668 or email support@mightycommunity.com.
Thought for the Week: "I've gone fishing thousands of times in my life, and I have never once felt unlucky or poorly paid for those hours on the water." – William Tapply "A Fly-Fishing Life
E-MAIL:
Click the links below for reports and counts:
Dungarvon Barrier report for July 17, 2016
Northwest Miramichi Barrier report for July 17, 2016
Cumulative counts to date of Salmon as of July 15
Cumulative counts to date of Salmon as of June 15
Atlantic Salmon Federation News for Friday, July 15, 2016
ASF RIVERNOTES Updates – Reports from Maine to Labrador
~~~~~~~~~~~~~~~~~~~~~~~~~~~~~~~~~~~~~~~~~~~~~~~~
There have been some remarkably large Atlantic salmon coming in to rivers this year. ASF reports this week with some sensational photos added.
http://asf.ca/asf-rivernotes-july-14-2016.html
Connecting the Next Generation with Salmon Rivers
~~~~~~~~~~~~~~~~~~~~~~~~~~~~~~~~~~~~~~~~~~~~~~~~
Lewis Hinks, ASF Director of Programs for NS and PEI, describes a great program on the Cheticamp River, on Cape Breton's western edge.
http://asf.ca/news-from-the-regions.html
ASF Research in the Heat of Summer
~~~~~~~~~~~~~~~~~~~~~~~~~~~~~~~~~~~~~~~~~~~~~~~~
ASF is involved with many different salmon and watershed projects during the summer. Check out the latest update of the ASF Research Blog.
http://asf.ca/research-in-the-field.html
Capelin Seining near Pinware River Stokes Concerns for Salmon
~~~~~~~~~~~~~~~~~~~~~~~~~~~~~~~~~~~~~~~~~~~~~~~~
The concern has been rising that Atlantic salmon might be netted as bycatch as trawlers criss-cross the bays close to the mouth of a Labrador River.
http://asf.ca/capelin-seining-near-pinware-raises-salmon-concerns.html
Water Extraction on Anticosti Island Places Salmon at Risk Says FQSA
~~~~~~~~~~~~~~~~~~~~~~~~~~~~~~~~~~~~~~~~~~~~~~~~
FQSA is calling on the Quebec Government to stop a plan to pump 30 million litres of water from rivers on the island – including two rivers with salmon runs.
http://asf.ca/could-water-extraction-on-anticosti-island-impact-salmon-.html
High Water and Cool Temperatures Have Made the Exploits a Challenge
~~~~~~~~~~~~~~~~~~~~~~~~~~~~~~~~~~~~~~~~~~~~~~~~
Weather has not been the angler's friend this year in central Newfoundland. Read more.
http://asf.ca/high-water-and-cool-temps-make-the-exploits-a-challenge.html
Want to receive the Miramichi Fishing Report by email?  Click here to subscribe now!
Until next week
TIGHT LINES
DOUG
The post Miramichi Fishing Report for Thursday, July 21, 2016 appeared first on Giver on the River.