Angling for Late August / early September continues to be quite positive, particularly on the Main Southwest Miramichi. Rain Wednesday evening and Thursday should keep water levels and temperatures right for fishing.  Depending on the amounts of rain, it may take a day or two for most pools to be fishable.  There have been some Fall hook-bills caught.  And we are awaiting the Fall runs to come.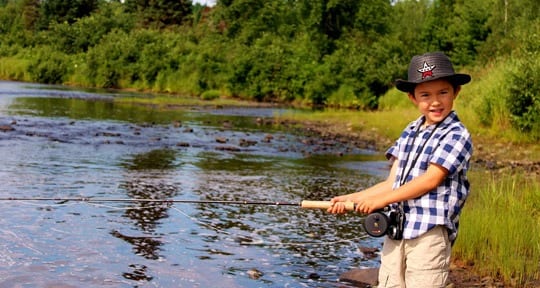 Doug White's Tammerack Sports Fly Shop in Juniper said the water is up a good pitch and it seems some fish showed up on it. Still not many fishing although it's reported the fishing is quite good.  Just because fish NEED to be released, people should really try and get out and fish while we are still allowed to use hooks.
Flies of choice: Bugs, several shrimp patterns, Red Abby, General P and Cascade. sizes 4 and 6.
W. W. Doak and Sons in Doaktown said water conditions were very favourable and there were quite a few fish around.  Considering it was late August, the over all scene was very good.  Although there were good numbers of fish around, most were not fresh into the system.
Flies of choice were mostly wets such as White-tailed Green Machines, Same-Thing-Murrays, Undertakers, Bugs, Stone Flies, and a few Fall patterns along with a few Bombers.
Derek Munn of Ledges Inn in Doaktown and Mountain Channel in the Rapids area said they had another good week of fishing; averaging six to eight fish a day between four rods.  One evening, they hooked 13 fish.  There was a good mix of grilse and salmon with tall of the salmon between 12 to 16 pounds.  There were a few fresh fish in the mix.
Flies of choice were Undertakers, Same-Thing-Murrays, Smurfs, and Bombers (blue & White) and (Green & White).

Herb Barry Sr. of Herb's Fly Shop on the Station Road in Blackville said fish were going.  One angler had lost a salmon Tuesday, and Barry had heard of other salmon being caught.  He had not heard of any grilse being hooked.  Water conditions were good, but the fish must be on the move as not a lot were showing.
Flies of choice were Rusty Rats, Blue Rats, White-tailed Green Machines, Bear Hairs, Undertakers, Preachers and Glitter Bears on no. 6 hooks.
Curtis Miramichi River Outfitting in Blackville said angling was good.  Water conditions were also good, although perhaps a tad high in some places.  They said that about 90 per cent of anglers into the shop had been into a fish sometime in the week.  There seemed to be more salmon than grilse.
Flies of choice were White-tailed Green Machines, Same-Thing-Murrays, Bombers and a few Fall patterns such as General Practitioners and Ally's Shrimps on mostly no. 6 hooks with a few 4S and 8S.
Jim Laws of Miramichi Hunting and Fishing in Newcastle, Miramichi reported angling as a bit poor on the Northwest and Little Southwest while the main River was better.  Water conditions were up a tad on the Main Southwest, but generally good.
Flies of choice were Dries and Bombers, along with White-tailed Green Machines, Same-Thing-Murrays, Undertakers and Bear Hairs.
Syd Matchett of Trout Brook Fly Shop on the Northwest Miramichi said before the rain last week, angling had been good.  Fish were moving after the rain, but there were still some throughout the system.  Jamie Murphy had hooked one Sunday, and Thursday to Sunday last week was good, but after Sunday, it shut down.  One party at the Elbow Crown Reserve did not catch a fish.
Flies of choice were mostly dark wets such as Undertakers, Same-Thing-Murrays, Shady Ladies, Bear Hairs, and a few Bombers as the water dropped.
Debbie Norton of Upper Oxbow Outdoor Adventures on the Little Southwest Miramichi said they were still doing well.  Howie Gould and Paul Elson had a good weekend, and a lady angler named Daphne from Vancouver caught two fish on Monday.  Another caught a salmon last Friday with sea lice on it on the Northwest Miramichi.  Last Wednesday and Thursday had also been good.  Water conditions were both a good temperature and a good height.
Flies of choice were White-tailed Green Machines, Echo Beaches and Same-Thing-Murrays.
So with good water levels to bring in fish and good temperatures, it is time to get out and "on the water".
Don't forget to show your support for our sponsors, because without them, this column would not be possible.  
Deals 4 U and MSA Fredericton Conservation Dinner
ANY FINANCIAL CONTRIBUTIONS TOWARD HELPING WITH THIS COLUMN ARE GREATLY APPRECIATED. Click here to donate now. Or to donate by mail, send to:
Doug Underhill
438 McKinnon Road
Miramichi, NB, Canada, E1V 6G2
A SPECIAL THANKS to all who made contributions last season.
If you would like to sponsor this column, give us a call at (506) 352-7668 or email support@mightycommunity.com.
Thought for the Week: "George Washington couldn't have been a fisherman.  He never told a lie."  -Jeffery Kreismer
E-MAIL:
Atlantic Salmon Federation News for Thursday, August 25, 2016
ASF RIVERNOTES – Updates on the latest salmon numbers
~~~~~~~~~~~~~~~~~~~~~~~~~~~~~~~~~~~~~~~~~~~~~~~~
ASF RIVERNOTES has the latest information on Atlantic salmon runs as we rush towards the end of August and look forward to Autumn.
http://asf.ca/asf-rivernotes-aug-25-2016.html
Doing Atlantic Salmon Science in Kansas City
~~~~~~~~~~~~~~~~~~~~~~~~~~~~~~~~~~~~~~~~~~~~~~~~
ASF Biologist Graham Chafe is in Kansas City, MO, and provides an up-to-date view of the meetings of the American Fisheries Society where 1,300 fish scientists have assembled. Of special note is a symposium on satellite pop-up tags. Read the latest.
http://asf.ca/research-in-the-field.html
President Obama Proclaims KATAHDIN WOODS & WATERS NATIONAL MONUMENT
~~~~~~~~~~~~~~~~~~~~~~~~~~~~~~~~~~~~~~~~~~~~~~~~
Just in time for the Centennial of the U.S. National Parks Service today, this 87,500 acre national monument will protect important Atlantic salmon habitat in the Penobscot Watershed. ASF has completed a half dozen stream improvement projects that are now within its boundaries, and Atlantic salmon have been found in 2016 in streams there.
http://asf.ca/u-s-president-proclaims-katahdin-woods-and-waters-national-.html
Poachers Selling Salmon in NL for Big Bucks
~~~~~~~~~~~~~~~~~~~~~~~~~~~~~~~~~~~~~~~~~~~~~~~~
There is an issue in NL of poaching to sell Atlantic salmon Read more.
http://asf.ca/poachers-sell-netted-salmon-for-big-bucks.html
First Nation Gives Eviction Notice to Salmon Farm
~~~~~~~~~~~~~~~~~~~~~~~~~~~~~~~~~~~~~~~~~~~~~~~~
On the BC Coast a First Nation has served an eviction notice on a salmon farm. Read more.
http://asf.ca/first-nation-gives-eviction-notice-to-salmon-farm.html
Entrepreneurs Developing Land-based Salmon Farm in Iowa
~~~~~~~~~~~~~~~~~~~~~~~~~~~~~~~~~~~~~~~~~~~~~~~~
Developers are searching for investors to support a land-based closed-containment recirculating salmon farm in Iowa.
http://asf.ca/entrepreneur-looking-for-investors-for-salmon-farm-in-iowa.html
In another development, a land-based salmon farm in Poland named JURASSIC SALMON is now producing for the market.
http://jurassicsalmon.pl/en/
What is Happening to the Wild Atlantic Salmon?
~~~~~~~~~~~~~~~~~~~~~~~~~~~~~~~~~~~~~~~~~~~~~~~~
From the UK comes an interesting appraisal of the state of wild Atlantic salmon that includes mention of ASF's groundbreaking tracking research.
http://asf.ca/what-is-happening-to-atlantic-salmon.html
Click the links below to view Dungarvon and North West Miramichi Barrier Counts:
Anyone wishing to report suspicious fishing activity anonymously is asked to contact the nearest Fisheries and Oceans Canada office or to call Crime Stoppers at 1-800-222-8477.
Want to receive the Miramichi Fishing Report by email?  Click here to subscribe now!
Until next week
TIGHT LINES
DOUG
The post Miramichi Fishing Report for Thursday, September 1, 2016 appeared first on Giver on the River.