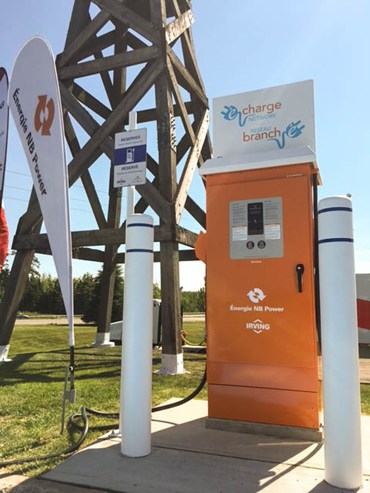 Two more fast-charging stations have been commissioned along the Trans-Canada Highway in Woodstock and Prince William giving drivers of electric vehicles more options for recharging in New Brunswick.
The Woodstock Murray's Irving and the Prince William Petro-Canada / Acorn Restaurant fast-charging stations are now available for use in the parking lots next to each service station.
In addition to these two sites, fast-charging stations for electric vehicles can be found along the Trans-Canada at the following locations: Edmundston, Perth-Andover, Youngs Cove, Lincoln, Salisbury, and Aulac. Standard level-2 charging stations are installed with each of the fast-charging stations and are part of NB Power's province-wide eCharge Network for electric vehicles.
"NB Power is very happy to welcome Murray's Irving and Mad's PetroCanada Truckstop / Acorn Restaurant to the eCharge Network as host to two of our fast-charging stations," said Brad Wasson, director of product development at NB Power. "Through these partnerships, EV-drivers can now charge up with the convenience of a service station equipped with food, washrooms and other amenities."
"The Government of Canada continues to support initiatives that will help build a clean economy, create well-paying jobs and achieve our climate change goals," said Tobique-Mactaquac MP T.J. Harvey. "These electric vehicle charging stations will give New Brunswick drivers cleaner options in the transportation sector and help pave the way for a low carbon future."
Harvey commented for federal Natural Resources Minister Jim Carr.
"Mad's Petro Canada Truckstop and Acorn Restaurant in partnership with NB Power is very pleased to offer the option of fast-charging  at our location, where the travelling public can enjoy a service station equipped with a restaurant, washrooms and other amenities 24/7," said general manager Lyle Dyker.
"Murray's Irving is excited to expand its offerings to include a fast-charging station and standard level-2 charging station, in addition to our service station, restaurant and convenience store, for electric vehicle drivers travelling in New Brunswick," said owner Calvin Grant. "We are happy to partner with NB Power on this project and we look forward to what the future might bring to the retail industry."
The eCharge Network's fast-charging corridor along the Trans-Canada Highway will include ten stations spaced 65 kilometers apart along the province's busiest highway where both fast-charging stations and standard level-2 stations will be available by mid-August. A funding contribution of $500,000 from Natural Resources Canada assisted in purchasing and installing the charging stations.
About the eCharge Network:
The eCharge Network is NB Power's public charging program for electric vehicles. The eCharge Network is made up of standard level-2 (240 volt) charging stations located throughout the province and by mid-August will include a corridor of ten fast-charging stations (400 volt) along the TransCanada Highway from Edmundston to Aulac. The network aims to enable drivers of electric vehicles to travel around New Brunswick.
Drivers of electric vehicles can sign up to the eCharge Network online and download the eCharge Network app for iOS and Android to locate charging stations, add credits to their account and access charging stations. The eCharge Network is interoperable with the Electric Circuit in Québec and the FLO network's thousands of stations throughout Canada.
Quick facts:
There are currently 15 standard level-2 eCharge Network stations available for use in the following municipalities: Edmundston, Perth-Andover, Fredericton, Waasis, Youngs Cove, Salisbury, Quispamsis, Moncton, Shediac, Aulac, and Grand Bay-Westfield.
It takes several hours to recharge completely at a standard level-2 charging station.
Both plug-in hybrid and all-electric vehicles can charge at a 120-volt outlet or standard level-2 charging stations (240 volt).
An all-electric vehicle can recharge up to 80 per cent in about 30 minutes at a fast charging ("level 3" / 400 volt) station.