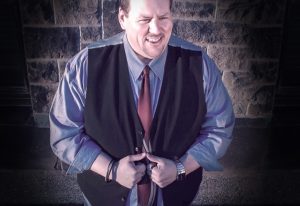 New Brunswick Roots Singer-Songwriter Mike Biggar is joining up with his good friends at BluesandRootsRadio.com for a uniquely insightful touring blog experience while on the road this summer playing east coast festivals and shows and promoting his new album GO ALL IN.  Biggar has been asked exclusively by the global internet radio station to capture the ups, downs and moment by moment adventure of his summer travels, featuring video, photos and a blog stream, all to be featured on the B&RR main website.
It's a great opportunity for Biggar to deepen ties with the revered supporter of independent artists as he gives friends and fans a more intimate glimpse into his summer travels, and to garner highly valuable exposure with the huge B&RR global audience as their exclusive featured Canadian artist. Blues and Roots Radio enjoys an impressively high rate of traffic and Biggar is excited about the chance to introduce his music and personality to a truly worldwide audience as he travels from town to town. Biggar's journey started on July 1st with a full band Canada Day show and will conclude with an Ontario tour in September, including a feature wrap-up interview special in Toronto with B&RR founder Stevie Connor.
Follow along at http://www.bluesandrootsradio.com/mike-biggars-summer-road-report 
Based in Port Credit, Ontario and Melbourne, Australia, BluesandRootsRadio.com is a global online radio station with hubs in the UK, Ireland and Hawaii USA, featuring over 50 shows from around the world that highlight a vast array of independent artists playing Blues, Soul, R&B, Americana, Alt Country, Bluegrass, Celtic, Folk, Roots and more on a 24/7 stream. Described by Cashbox Canada as "Radio The Way It Used To Be" B&RR places high value on both the music of the independent artist and partner radio show hosts being free to present music to their listeners about which they are passionate.
For more information visit:
http://www.bluesandrootsradio.com
The post NB Singer/Songwriter Mike Biggar Partners with Blues & Roots Radio for Summer Tour Blog appeared first on Giv'er Saint John.