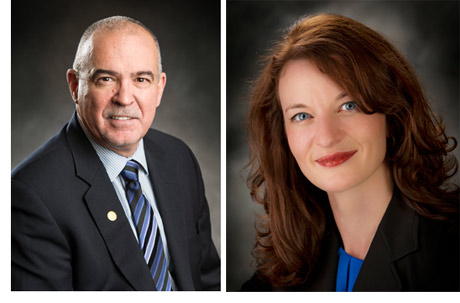 Larry Hachey, president of Bluechip Leasing Atlantic, has been appointed chair of the University of New Brunswick's Board of Governors for a two-year term, effective July 1. Mr. Hachey, of Quispamsis, N.B., has served on UNB's Board of Governors since 2011, most recently serving as vice-chair.
Robyn Tingley, a Rothesay-based social entrepreneur, author and adviser to companies across North America from startups to Fortune 100, has been appointed vice-chair, also for a two-year term beginning July 1. Ms. Tingley has been serving on UNB's Board of Governors since 2015. She previously served on the Board from 2006 to 2008, prior to relocating abroad for international work.
Mr. Hachey replaces Brian Baxter, chairman and CEO of Botsford Investment Inc. in Moncton, who steps down after his two-year term.
"Serving as chair of UNB's Board of Governors has been a tremendous privilege and an honour," Mr. Baxter said. "I'm proud to be associated with such a strong institution that brings so much benefit to the province."
He lauded Mr. Hachey as incoming chair of the board.
"Larry and I have worked closely together during these last two years – I admire his tremendous work ethic and dedication to the betterment of UNB," said Mr. Baxter. "Larry as chair, paired with Robyn Tingley as vice-chair, positions the Board of Governors very well for the coming years."
Eddy Campbell, president and vice-chancellor of UNB, saluted Mr. Baxter for his service to the university.
"Brian's deep interest and passion for UNB is evident in the countless hours he devoted to the affairs and well-being of the university over the years, particularly as board chair. His commitment to UNB has been resolute and I am grateful for his service," Dr. Campbell said.
"I look forward to working with Larry and Robyn in their new roles as we continue to strengthen UNB, enhancing its national reputation for teaching and innovation," he said.
UNB's Board of Governors is composed of 45 members who meet five times a year. The role of the board is to approve and support values, vision, mission and strategic goals of the university and to monitor progress against the approved goals. The board and its committees focus on governance, oversight and policy, including assessing the performance of the president, allocating financial resources and acting as stewards of the university's lands and buildings.
The post New chair and vice-chair named to Board of Governors at UNB appeared first on Giv'er Saint John.