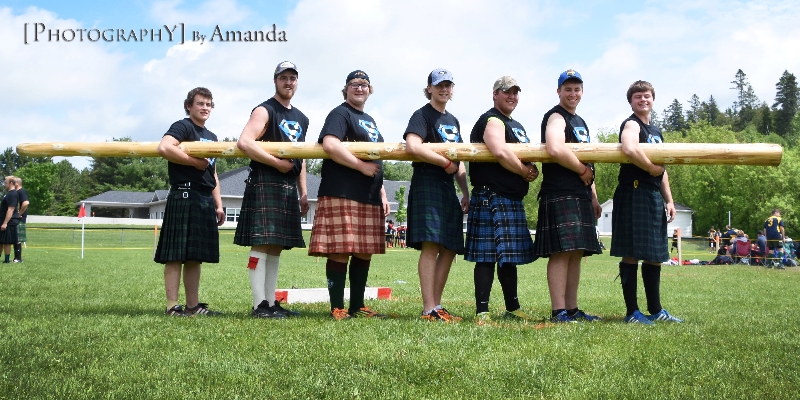 Gathering of the Scots Festival
Perth-Andover, NB, Canada
May 30th– June 4th, 2107
"In the Scottish Highlands of New Brunswick"
On a recent trip to Scotland with my family, I took an early morning stroll along a rural road in the small community of Moy – just a few miles south of Inverness – deep in the Scottish Highlands.  By the fate of chance, I was accosted by a gentleman from his door-yard who seemed to be preparing to leave shortly for work.  "Hey Lad", he shouted as I strolled past, "Are you one of those Canadians staying up the road"?  "I am", I replied as we met and shook hands along the ancient rock wall the divided his property from the roadside.  The usual small-talk commenced, however I learned quickly that he was keenly interested in our origins, what Canada was like and why we had made our pilgrimage to this land of our ancestors.  "Why'd ye come"? he asked several times.  After a life of planning and anticipation, I actually found it difficult to answer his question but tried my best.  "I needed to see this place", I opened carefully.  "It has been a part of my life from a young lad echoed through the stories of my ancestors that left here so many years ago."  He replied with a smile, "Aye, well, I can tell you're from the east of Canada.  You may not realize it, but I can still hear a wee bit of us in you!  You and me, we're different you know, but the same aye"?
Different but the same?  What a wonderful way of putting it all into perspective!  We talked of Canada, the changing Scottish Highlands and bits of our personal lives that early morning along the road at Moy.  Far too soon, with the sun moving up in the east, we parted ways.  "Tell our brothers and sisters across the pond we are sayin' hi", he said as we shook hands once more.  "Scots are Scots nay matter the place we sleep"!
It's funny how such a small occurrence in life can affect a person!  The Gathering of the Scots festival in Perth-Andover will move into its 16th annual celebration of Scottish culture and heritage in 2017 (May 30th – June 4th) but those words of separation that I received along the road in Moy continuously return: "we are different, but the same, aye?  Tell our brothers and sisters we are sayin' hi"!  I think my friend from the roadside at Moy would be impressed!  For over 15 years now, a dedicated group of volunteers have worked diligently to ensure the cultural heritage and traditions of Scotland have not been allowed to fade into oblivion.
Scottish cultural projects are proudly displayed at Regional Heritage Fairs in the Province.  For over a decade, the village of Perth-Andover hosts an elegant 5-course Whisky-Pairing dinner each spring complete with bagpipers and Celtic music.  The majestic Aroostook Valley Country Club welcomes visitors to their annual "Wednesday-Evening Celtic Scramble" golf tourney. The prestigious Castle Inn draws hundreds to experience their "Friday Evening Ceilidh".  Our local Masonic brotherhood will offer a wonderful "Beer-Tasting Workshop in 2017.  And even the historic Larlee Creek church opens its doors for the exclusive "Kirking of the Tartans" ceremony.
And then there's the "Crowning Jewel" of all these efforts – all day Saturday (June 3rd)!  The streets come alive with dozens of festival banners and decorations, colorful Scottish kilt-wearers hit the streets and Veteran's Field (in the center of the village) is transformed into a site of celebration with dozens of kiosks, athletics, stages and interactive workshops!  Festival weekend has finally arrived!
So, what's so special about 2017?
From very humble beginnings in 2002, the Gathering of the Scots in Perth-Andover has grown exponentially in its 15-year history.  Festival organizers work diligently throughout the year to bring new and innovative displays and activities to the Gathering of the Scots for their visitors to enjoy "All things Scottish"!
TUESDAY, MAY 30th Picaroons/Railcar Beer-Tasting Workshop
Benjamin Masonic Lodge #31 in Perth-Andover will host a wonderful evening of New Brunswick craft beers at their first "Beer-Tasting Workshop from 6:30 – 9:00 PM.  Mater brewer and president of Railcar Brewing Company, Mitch Biggar will walk his guests through the tantalizing senses of some of our best locally-produced beers.  At a very reasonable cost of only $30 per seat, this event is limited to only 50 guests in 2017.  Contact a Mason in Perth-Andover and get you tickets soon!
WEDNESDAY, MAY 31st Kilts, Bagpipes and an evening of Golf
Wednesday evening sees "the Celtic 4-man scramble" – a light-hearted round of Scotland's national sport at the prestigious Aroostook Valley Golf Club in Four Falls, NB.  Although definitely not mandatory, get in the spirit for the Gathering!  Pin on a plaid or pull on the kilt, and let the haunting sounds of the Highland Bagpipes serenade you at this historic site in the Scottish Highlands of Victoria County.  Start the weekend off right! Bring a friend and enjoy an evening of golf and refreshments at amazing special festival pricing!
 THURSDAY, JUNE 1st  So, ye want to toss the Caber?
Have you ever wondered what it would be like to throw the Scottish Caber or Hammer?  Thursday's Heavyweight Athletics Workshop (5:00 PM) will give everyone (male and female alike) the opportunity to see what all the rage is about!  For a small registration fee, let our Professional Instructor Dirk Bishop walk you through the finer points of each of these historic events.  But be careful . . . this is a lot of fun!  You may even want to continue your career and join the Amateur Competition Saturday!  Stop into our web-site at www.gatheringofthescots.com or contact Dirk to register today!
FRIDAY, JUNE 2nd There will be lots of athletics on Friday!
Don't miss the "Masters" category of Heavy Athletics Competition (40 years plus) highlighting our very own "World Masters Champion" starring Dirk Bishop at 3:30 PM.
The "Castle Ceilidh" is tonight!
What would a Scottish Gathering be without a Medieval Castle – and a Scottish Ceilidh?  Get your seat early at Perth-Andover's prestigious Castle Inn, Restaurant & Spa for a delightful evening of great food and entertainment.  Lots of pipes and drums, plus a traditional night of music by our very own Scheidler Family, Dan Vallance, Gerald Girvan, Steve Braun and more!  Arrive early to the Gathering and come to the Ceilidh (pronounced Kay-Lee) high on a hill overlooking the village of Perth-Andover!
SATURDAY, JUNE 3rd The Highlander's Breakfast!
Saturday starts early at the Gathering.  Take in our truly amazing "Highlander's Breakfast (7 am -10 am) – served just across the street from the festival grounds at the Perth Elks Lodge.  Fuel up for a busy day at the Gathering of the Scots – delicious home cooking and down-home hospitality for a very reasonable price!
Gates open early!
The gates to the festival grounds open at 8:30 am as performers and athletes prepare for a complete day of "True Celtic Experiences"!   Dozens of musical performances, athletic competitions and so much more are guaranteed to absolutely overload the senses! Take the time to view some of the many genealogy and cultural information displays – visit the assortment of Celtic retail vendors – and don't miss the excellent variety of food and refreshments offered.  From "Haggis-on-a-bun to the Highland fling" – it's all at this year's Gathering of the Scots!
The falcons are back!
Back by popular demand at the Gathering, the ancient sport of falconry will be center stage with the hosting of a "Birds of Prey" show in 2017!  Representatives from Falconry Environmental Services Inc. (St. Lazare, QC) will travel to Perth-Andover – accompanied by 5 specially trained raptors to host what is possibly New Brunswick's first ever falconry show!  See these majestic birds during 2 afternoon flight demonstrations and stop into the falconry booth after to get up close and personal to learn more about this ancient "sport of kings"!
 How about a workshop?
For those looking for a more "hands on experience", register to attend one of the many informative workshops offered on the grounds.  Whisky tasting sessions are always popular – or why not a short session on fly-tying?  Or even stop into our "Shanachie ar Puball" (Story-telling circle)!
Have you ever dreamed learning to play the Highland Bagpipes or drums?  And let's not forget the always-popular Highland Dance workshop!
Rugby
The ever popular Middle School tug-o-war challenge will get your blood flowing, along with hundreds of competitors in the day-long Rugby matches!
Put Your Fly Down!
But it doesn't stop there; why not try your hand at the popular Fly-Casting Competition?  Events are set to accommodate the kids plus those others with a serious fly-fishing fetish!  Participation is free at the Gathering – the winners will take home great fly-casting prizes!
The Longbow, the Recurve or the Compound?
Back by popular demand in 2017, visitors will be treated to a new archery venue offering visitors the opportunity to learn more on the finer point of this traditional sport.  Hosted by Perth-Andover's newly-formed archery club (Twin Rivers Archery) certified instructors will educate and let you try your hands at the fantastic medieval sport!
Just for kids!
The "Wee Ones" can enjoy a variety of events specifically offered including children's activity tents with scheduled themes and the Lightweight Athletics Workshop just after lunch.  To complete the Celtic theme, visit the Gathering's Souvenir Tent and sign out (free of charge) a "kilt for kids" to wear all day long!
March with the Clans!
You can even contact us ahead of time – and we will provide you with a banner printed with your family crest that you and other members of your "Clan" can proudly carry during our Clan March!  This is an impressive event to watch from the sidelines – but so much more emotional to participate in with well over 36 clan anticipated for 2017!  Contact us early and we will have your family's banner ready to march with the massed bands!  An event you will never forget!
Massed Pipe Bands!
Pipes and Drums will be absolutely everywhere!  Organizers expect to see over 150 pipes and drums take the field throughout the day!   A must see is the intimidating Massed Band Parade at 12 noon followed throughout the day by individual performances and the unique Piper's Circle at 4:30pm.
SUNDAY, JUNE 4TH
The Kincardine "Kirk on the Hill".
A pilgrimage will complete the long list of activities at the 15th Annual Gathering of the Scots.  Join us at the majestic "Upper Kintore United Church" in the Scottish highlands of Victoria County Sunday morning at 11:30 as we take time to say thank you for all of those that have come before us and toiled so hard to carve out a community for today's generations.
Larlee Creek and the "Kirking of the Tartans"
After a busy weekend of "everything that's Scottish" what better place to finish up – than where it all began.  Join us Sunday evening at one of Perth-Andover's most historic sites – the 147 old Larlee Creek Church.  Although rarely used, special considerations have kindly allowed for opening of this building's historic doors again in 2016 for a closing service at the Gathering.  Many of our area's original Scottish settlers would have originally set their tired bones down on these same pews as they gave thanks to the new land they had come to.  Special to this ceremony will a reenactment of the ancient "Kirking of the Tartans" – hard to explain, but amazing to witness! Long-time supporter Graydon Dingee will lead the congregation followed by home-made refreshments and a walk around this historic site and cemetery!
 CMC Freestyle Fitness – 1km & 5 km Tartan Runs
Again, this year, organizers are proud to announce the "running of the tartans"!  Carefully designed, the course will delight participants with a circuit through many of the streets and trails within our community.  Early on, a special 1 km run is offered for the younger participants followed by a scenic 5 km route for the adults.  Very popular event in 2016, this walk-run event will surely attract participants of all ages in 2017!
So, ARE WE all different, but the same?
And so, you ask, "What's a Scottish Gathering got to do with me"?  Well maybe you're Scottish – or maybe you not.  You could be surprised though – 1 in 5 New Brunswickers make claim to their proud Scottish heritage!  But it doesn't matter much really. . .
The Gathering of the Scots is hosted to celebrate just one segment of the rich traditions and ancestry of many of our people in the Upper Saint John River Valley.   From our proud First Nations people to the later arrival of the Scots, Irish, French and many more, our communities are built on a diverse history of Multiculturalism.
The Gathering of the Scots is specifically organized to appeal to a limitless range of cultural backgrounds.  Come to the Gathering!!  Experience the culture!!  A weekend not soon to be forgotten!!
For more information on this year's Gathering of the Scots Festival or to preview the schedule of events for 2017, simply access the festival website at www.gatheringofthescots.com , follow us on Twitter at GatheringScots ,like our Facebook page at Gathering-of-the-Scots or "old-school" by phoning Rod MacIntosh (273-6710).
Originally published by the St. John River Valley Tourism Association.