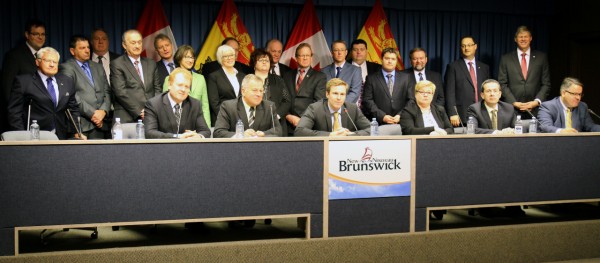 The Education and New Economy Fund will make strategic investments in projects to provide the best education system and workforce skills development while helping industries innovate and businesses increase productivity, Premier Brian Gallant announced Tuesday March 29th.
Gallant will be the minister responsible for the fund, which is anticipated to invest nearly $1 billion during the next three years in priorities such as jobs, education, training, innovation and research and development.
"Education is the best investment we can make to ensure that we have economic growth in the long term, and it also happens to be the best social equalizer," said Gallant. "This is why we will be investing more in education than ever before in the history of the province. We will also be investing $250 million of new money during the next three years to provide a strong education system and a highly-skilled workforce while helping industries innovate and businesses increase productivity."
He noted that one of the concerns raised during the Strategic Program Review by stakeholders and people across the province was the need for better co-ordination across government. The fund will therefore support and co-ordinate new and existing programs in areas of jobs and education. The provincial government will invest at least $261 million in 2016-17 to support students, entrepreneurs, businesses, scientists, and New Brunswickers as they look to build an innovative economy.
"By strategically co-ordinating new and existing investments in education, training and innovation we can eliminate silos within government to provide the greatest positive impact for our province's people and economy," said Gallant.
He indicated which types of investments will be made by the fund:
investments in programs to enhance early detection and support for learning disabilities;
following the recommendations of the 10-year education plan and literacy strategy, investments to ensure that New Brunswick students have a strong education system, which includes:

providing opportunities to learn coding and ensuring learning related to emerging industries in our economy;
strengthening student access and exposure to the trades;
enhancing related courses in science, technology, engineering and mathematics;
improving literacy and numeracy achievement levels;
ensuring opportunities for art, music and physical education; and
increasing exposure to New Brunswick's cultures.
investments to improve accessibility and affordability of high-quality post-secondary education;
investments in life-long learning, training and skills development;
investments in programs that will help under-represented groups access the labour force;
investments in innovation and the green economy;
investments that will help businesses and industries innovate and increase productivity; and
investments in research and development.
"Innovation is the key to emerging sectors and it supports how we compete in our traditional industries like agriculture and forestry on a national and international stage," said Gallant. "In our schools, on our farms, in our forests, and in our laboratories, this fund is about supporting New Brunswick's economy and building the best workforce in the country."
Gallant will work with the ministers and departments responsible for the different programs and initiatives of the fund to ensure that the parts are co-ordinated, complementary and realize maximum benefits.
The creation of the fund was announced by Gallant in January during the state of the province address.