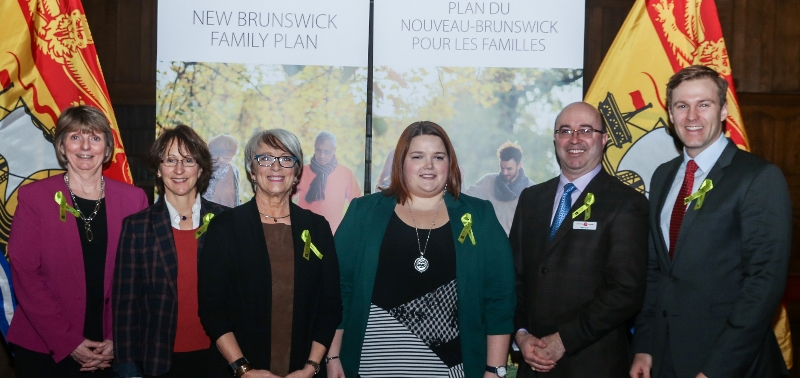 The provincial government has released a report on supporting those with addictions and mental health challenges. The report stems from the stakeholder engagement process to develop the New Brunswick Family Plan.
"Good mental health is fundamental to the resilience of individuals, families and communities," said Premier Brian Gallant. "Improving mental health will also increase productivity for our businesses and economy."
The report highlights the development of the Enhanced Action Plan on Addictions and Mental Health as a priority initiative that will address continuity of care and access issues for a broader segment of the population. Building on the success of the Integrated Service Delivery approach in schools, the Flexible and Assertive Community Treatment Teams in communities and the implementation of the Supervised Community Care frameworks, the action plan will focus on ensuring evidence-based, person-centered services.
To address gaps and ensure individuals and families have access to the programs and services they need, the report also outlines actions in the following areas:
Adopting a proactive approach to improving mental health.
Bridging gaps in existing programs and services such as those addressing addictions.
Offering a collaborative model of care through an integrated, person-centred approach to service delivery.
Offering culturally relevant treatments and services, taking into consideration the individual's social context.
Enhancing the knowledge and awareness of individuals, families and health care and other service providers.
"Our organization believes that a comprehensive mental health strategy is one that is created for all of us, so in turn, is everyone's responsibility," said Debbie McInnis, executive director of the United Way of Greater Moncton and Southeastern New Brunswick. "All sectors need to work together to ensure that individuals and families are connected to caring, supportive relationships and that government and community services work collaboratively to help them access the support systems they need."
"We are encouraged by this initiative and report," said Christa Baldwin, executive director of the Canadian Mental Health Association of New Brunswick. "The people we elect need to hear that there is no health without mental health and that message was relayed at the stakeholder summit. Not everyone requires clinical care: more resources need to be invested in community-based services to meet the growing need of New Brunswickers. We have a real opportunity, with this report and plan, for New Brunswick to stand out as a mental health leader in Canada."
The New Brunswick Family Plan builds on the goals of the New Brunswick Economic Growth Plan and the 10-year education plans. It also works in tandem with those plans to ensure that the government is tackling important issues in an integrated manner.
The New Brunswick Family Plan focuses government action in seven priority areas: improving access to primary and acute care; promoting wellness; supporting people with addictions and mental health challenges; fostering healthy aging and support for seniors; advancing women's equality; reducing poverty; and supporting people with disabilities.
The post Release of New Brunswick Family Plan report on supporting those with addictions and mental health challenges appeared first on Giv'er Saint John.