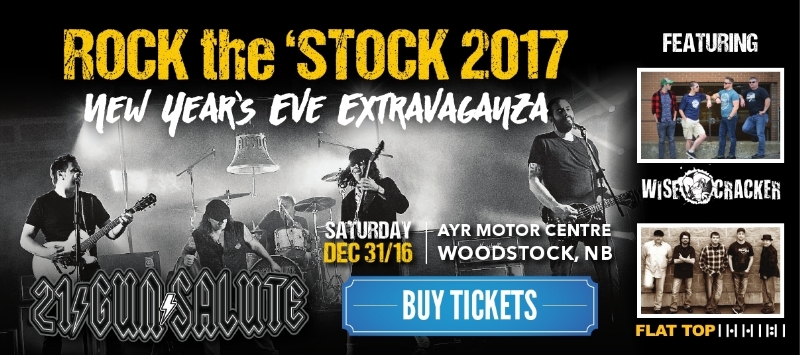 The East Coast Production Group invites YOU to join us for a New Year's Eve Celebration unlike any other! Rock the 'Stock 2017 New Year's Eve Extravaganza will take place at the Ayr Motor Centre in Woodstock, NB and will feature three rock bands 21 Gun Salute, Flat Top and WiseCracker!
Woodstock favourites WiseCracker will help you shift gears for Happy Hour and get you pumped up for a night of rock and roll! These four guys have a passion to play music and have fun while doing it! They love to rock and offer a great mix of classics spanning six decades sure to have the crowd dancing in no time!
Next up is Flat Top! This award winning group has become a household name in New Brunswick over the past fifteen years! Their high-energy, well-mixed sets continue to attract new fans while keeping their dedicated audiences on their feet. Without a doubt, an evening with Flat Top is a not to be missed experience!
Headlining the night's event is Montreal based band 21 GUN SALUTE. They are undoubtedly one of the best AC/DC tribute bands ever assembled. The band pays true homage to AC/DC's high voltage rock-n-roll. From the Bon Scott raw rock-n-roll early years to the bands evolution throughout their thirty-year tenure with Brian Johnson. Every detail of their performance has been painstakingly reproduced, from the smokin' cannons and HELL'S BELL stage props to Angus' school boy outfit and signature live antics, not to mention the lead singer's absolute dead on vocal rendition of both Bon Scott and Brian Johnson.
"The countdown to midnight will feature a ball drop (well, technically it's 21 GUN SALUTE's "HELL's BELL) and a complimentary champagne toast for all." explains Bobbie O'Donnell of The East Coast Production Group.
"We are working hard to make this a community event. If it's successful, hopefully it can become an annual celebration that people look forward to. There are many perks we are still working on, so we encourage everyone to stay tuned. There will be hotel promos and more that we hope the public will take advantage of."
Tickets to this 19 plus aged event are just $45 tax included and are available for purchase at 10 am, Friday September 16th at the Ayr Motor Centre Reception desk or online at ecpg.ca. Ticket prices will increase by $10 each on December 16th. For those who purchase online, tickets are subject to a small service fee.
O'Donnell finishes by saying, "The event starts when doors open at 7:00 pm with Happy Hour! We invite everyone to come early and take advantage of craft beer and special wine selections along with finger foods. WiseCracker will kick-off the music portion of the night at 8:00 pm."
TICKETS on SALE this FRIDAY, SEPTEMBER 16th at 10 AM!
Purchase online at ecpg.ca or visit the Ayr Motor Centre's Reception Desk (105 Connell Park Road, Woodstock, NB). Tickets are $45 TAX INCLUDED! (*Note: If purchasing on-line, ticket price is subject to a ticket fee)
For more information visit: www.ecpg.ca.
Like us on Facebook @TheEastCoastProductionGroup and follow us on Twitter @ECPG_2012