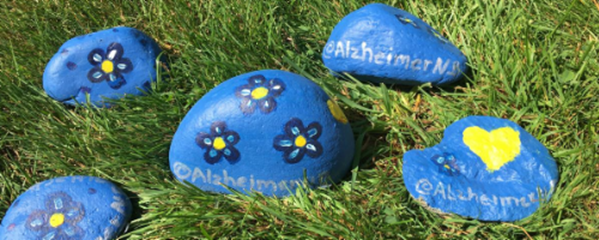 Join the Forget-Me-Not Rock Challenge!
September is World Alzheimer's Month, and the Alzheimer Society is raising awareness with its new rock-hiding campaign, the Forget-Me-Not-Rock Challenge.
Until the end of September, you can join the fun by finding our rocks or by painting and hiding your own. Here's the best part: every Friday from now until Sept 25th, we will be giving away a pair of our forget-me-not socks to someone that's participated in the social media challenge! To enter, take a selfie or photo of your rock, post it to Facebook, Instagram or Twitter, and tag the Alzheimer Society of New Brunswick @AlzheimerNB for your chance to win a pair of our forget-me-not socks!
For more details on how to participate, click here to watch our challenge video
If you'd like to paint rocks, click here to watch our demo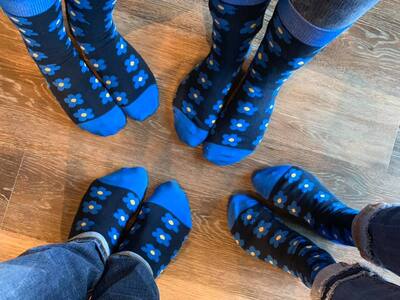 Help Us Sock it to Dementia
Sock it to Dementia is back by popular demand! For a second year, we will be selling our forget-me-not patterned socks to raise funds for the Alzheimer Society of NB. For $15, you will receive a beautiful pair of socks, a tax receipt for $10, and you will be supporting local services for those impacted by dementia.
To get yours, contact our team at info@alzheimernb.ca or 1-800-664-8411.
You Can Do Anything With Alzhemier's
Anything for Alzheimer's is the Alzheimer Society of NB's program that enables people to host independent fundraising events to support people affected by dementia and make a difference in their community!
While the way we are able to meet and hold certain fundraising events has changed in 2020, the need to provide programs and services for people affected by dementia hasn't. Take your own unique idea or talent, do your thing and support those affected by Alzheimer's disease or another form of dementia in New Brunswick!
Visit our website for more information or contact us at events@alzheimernb.ca or (506) 800-3149.
Community Champion: New Brunswick Women's Institute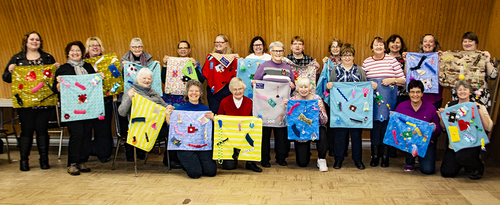 Our Community Champion for the month of August is the New Brunswick Women's Institute. With 600 members and 70 branches around the province, the NBWI is a grassroots organization dedicated to informing and educating women about issues and events of concern to them and their communities.

The NBWI supports a variety of community initiatives, but we at the ASNB have come to know them through their fidget quilt initiative. We first came to learn of the project in March when they invited us to attend their workshop on how to make the quilts.

A fidget quilt is a small activity lap blanket where tags, toys and trinkets are safely sewn on a comfy, cozy blanket to provide sensory and tactile stimulation for the restless hands. These quilts can be a great option for someone living with Alzheimer's or another form of dementia, ADD, or an autism spectrum disability.
The NBWI has provided the ASNB with several fidget quilts made by their members to be shared with clients who may find comfort or leisure in their use.

We are so grateful to the NBWI for spearheading this wonderful initiative and for enabling our clients to benefit from it! If you are interested in receiving a fridget quilt, please contact our office at 1-800-664-8411 or info@alzheimernb.ca.