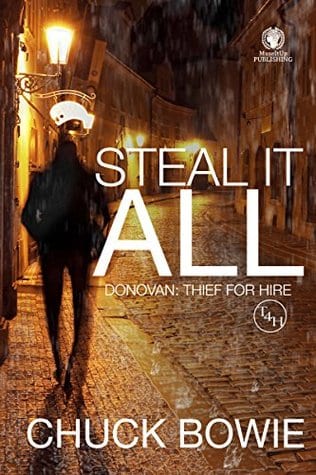 by James M. Fisher, The Miramichi Reader
"The man continued down the hall, turned right and walked all the way to the back corner of the floor. He approached the door marked Director, Trade, opened it and walked in. The door, very solid, closed behind the intruder and the discrete click alerted the director to the presence of a guest. He swiveled around in time to receive a slug between the eyes. The man fired a second shot through the director's heart, but he was already dead."
So begins Steal It All, book #3 of the Sean Donovan: Thief for Hire series by New Brunswick author Chuck Bowie. His two previous books, Three Wrongs and AMACAT, have all been reviewed by the Miramichi Reader. If you like crime fiction with suspense, action and plot twists, then all three of Mr Bowie's books will entertain you. One doesn't need to read them in order, but to understand the character of Sean Donovan and some of the other characters, it would be best to get all three and read them in order.
In my conclusion to the Three Wrongs review I stated:
"I'll admit that the crime thriller-type genre isn't my first choice for reading, but I found Three Wrongs entertaining and fun to read. Sean has a conscience and is generally a nice guy. Three Wrongs is a great first novel, full of adventure and intrigue in locations such as Montreal, New York and Romania. Mr Bowie assures me that Book #2 and #3 are even better than Three Wrongs, and that makes me want to read them as well."
Well, I agreed with Chuck that book #2, AMACAT was better than book #1 and now we come to book #3, which will be available in paperback form on October 4, 2016.
Sean works primarily with his brain, taking the time to think out his next steps, but he's not afraid to ruffle a few feathers if he thinks it will stir up some information.
Synopsis
A British official has been murdered in his Canadian embassy office in London, his unidentified killer having committed suicide right afterwards. Sean Donovan, who has performed security work for the embassy in the past (see AMACAT) is called upon by Rory Thompson the Canadian High Commissioner to Great Britain to help solve this case. Typically, Sean works alone (and prefers it that way), but for this case, he is appointed a team composed of  Detective Inspector Gemma Trask from New Scotland Yard, and Jack Miller, a senior RCMP detective.  Beth McLean, Sean's girlfriend and the Canadian embassy's Director of Communications is also assigned to the team. Their investigation leads them to Manchester; then to Romania, uncovering an art theft ring masterminded by Ace Hendricks the leader of a Manchester gang. But Sean has two other demands on his time: the pending purchase of a winery back in Ontario and the job of recovering a stolen work of art owned by Gaia, art collector and heretofore Sean's nemesis.
Conclusion
I have enjoyed reading all three of the Thief for Hire novels and what I chiefly appreciate about them is the absence of vulgarity, gratuitous sex and excessive violence.  Mr Bowie keeps a tight focus on the story, keeping it moving along at a brisk pace. Sean also works primarily with his brain, taking the time to think out his next steps, but not afraid to ruffle a few feathers if he thinks it will stir up some information. Beth, his companion is no deadweight to Sean, in fact, she is just the opposite, having recently survived her own personal hell, coming out stronger, wiser and more determined to help Sean (see book #2). As a matter of fact, all of Mr Bowie's female characters are strong in their own way, they are definitely not fluff nor window dressing within the narrative, thus making this series engaging to readers of both sexes.Indeed, the highlight of the book for me was Gemma Trask's ordeal after she was thrown into a pitch black warehouse with no doors. Then, her would-be assassin descends through the roof, thinking he will make short work of the diminutive detective. Wonderfully choreographed action by Mr Bowie. Very suspenseful stuff!
Sprinkled throughout the story are references to places, wine and food, all drawn from Mr Bowie's personal experiences and love of travel and the finer things in life. The fourth book is in the works, titled The Body On The Underwater Road, and is the first in the series with scenes from his home province of New Brunswick.
If you enjoy a good story, with action, intelligence and international intrigues, then I encourage you to purchase all three of these novels. They can be obtained as paperback or ePubs from MuseItUp Publishing and other vendors for reasonable prices. TidewaterBooks.ca also has Mr Bowie's novels in print.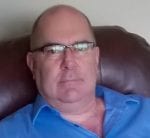 James M. Fisher lives in Miramichi. James is an ardent reader whose aim is to highlight New Brunswick authors and publishers, as well as cover subjects of interest to New Brunswickers in particular and Maritimers in general. For more visit his website or like his page on Facebook.
The post Book Review: "Steal It All" by Chuck Bowie appeared first on Giver on the River.