This weekend we move through June and into July.  Canadians will celebrate 150 years as a country on Saturday, July 1.  So we wish all a Happy Canada Day! 
As well we extend similar greetings to our Americans as they will celebrate their country's birthday on Tuesday, July 4.
As we finish the month of June, we see more improvement in the numbers of fish coming into the system each week.  However, although numbers are improving each week, there certainly is no big run on.  Besides salmon and grilse, there are also shad now in the rivers.
W.W. Doak and Sons in Doaktown said there were some fish around, with reports of them being seen moving through the pools with the odd one being caught.  There were good numbers reported at Mountain Channel last weekend and early this week.  The water was a good height and temperatures ranged from the low 60s in the mornings to high 60s Fahrenheit by late day on average.
Over all, it was not gangbusters, but there were enough fish to keep a true angler interested.
Flies of choice were White-tailed Green Machines, Same-Thing-Murrays, Butterflies, Cossebooms Undertakers and the odd dry fly/bomber on no.6 hooks.
Andrew Anthony of Ledges Inn in Doaktown and Mountain Channel in the Rapids area said there were good numbers of fish around, including good numbers of grilse.  Mountain Channel had had good fishing early in the week, with a number of grilse and a 15-pound salmon, and he was looking for them to arrive in Doaktown any day.  They had caught two grilse and lost a salmon at Ledges.  Water conditions were good.
Flies of choice were Bear Hairs, Undertakers, White-tailed Green Machines with Krystal Flash, Shady Lady Bugs and Same-Thing-Murrays on no. 6 hooks.
Herb Barry Sr. of Herb's Fly Shop on the Station Road in Blackville said anglers were getting a few fish, both salmon and grilse, but it was spotty.  There were very few local anglers out; most were sports.  Water conditions were good.
Flies of choice were Green Rats, Same-Thing-Murrays, Bear Hairs, White-tailed Green Machines and Shady Ladies on no. 6 hooks.
Curtis Miramichi River Outfitting in Blackville said they were starting to get more fish this week, with at least 20 some reports of catches, including grilse.  The water was a good level for both angling and canoeing.  (Curtis rents canoes).
The Blackville Fire Department's fund-raiser, "Splash Down", will take place July 22 and run from the Mouth of the Cains to the Whooper Park in Blackville.  Entry fee is $10.00 if one plans to participate in the poker run.  So pencil-in a canoe for this date.
Flies of choice were White-tailed Green Machines, Same-Thing-Murrays, and Glitter Bears o no. 6 hooks.
Jim Laws of Miramichi Hunting and Fishing in Newcastle, Miramichi reported slow angling with the striped bass spread throughout the Gulf Region, very few trout, and only a few salmon and grilse yet, although there was an odd one being hooked.  Generally, water conditions were good.
Flies of choice were White-tailed Green Machines, Black Ghosts, Butterflies and Shady Ladies on no. 6 hooks.
Syd Matchett of Trout Brook Fly Shop on the Northwest Miramichi said angling had been a bit quiet, but with a small raise in water, they were at least seeing more fish in the lower stretch, even if they were not taking.
A party at the Elbow Crown reserve caught one grilse during their stay.  Syd said the water had been warm and the anglers stocked up on lots of ice.  He surmised, with a sly grin, that they must have had one from the party hold a block of ice above the pool to cool the water, else why would they need so much ice.
The water had been getting low again, but thunderstorms Tuesday night and on and off showers may help freshen the system.
Flies of choice were White-tailed Green Machines, Yellow-winged Butterflies, White-winged Butterflies and Shady Ladies on no. 6 hooks.
Debbie Norton of Upper Oxbow Outdoor Adventures on the Little Southwest Miramichi said Chip Sutherland of Halifax had hooked a beautiful 15 pound salmon on Wednesday, and that there were a few fish around.  The water was good, having raised a foot from storms on Tuesday.
Fly of choice was a hybrid of a Blue Charm.
With Canada Day upon us this Saturday, we turn the calendar to July angling, so get out and "on the water".
Don't forget to show your support for our sponsors, because without them, this column would not be possible.  

ANY FINANCIAL CONTRIBUTIONS TOWARD HELPING WITH THIS COLUMN ARE GREATLY APPRECIATED.
Click here to donate now. Or to donate by mail, send to:
Doug Underhill
438 McKinnon Road
Miramichi, NB, Canada, E1V 6G2
A SPECIAL THANKS to all who made contributions last season.
If you would like to sponsor this column, give us a call at (506) 352-7668 or email support@mightycommunity.com.
______________________________________________________________________________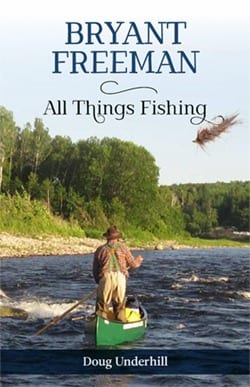 Bryant Freeman: ALL THINGS FISHING by Doug Underhill
NOW AVAILABLE in Stores
or from Doug Underhill
438 McKinnon Road
Miramichi, NB
E1V 6G2
or Bryant Freeman 1-506-386-6269
Cover price $19.95
Shipping to Canada $25.00 (Incl shipping & handling)
To US $30.00 (incl shipping & handling)
The Coalition for Better Salmon Management (CBSM) now has a website at salmonnb.com, which has been expanded and updated. It already has a membership over 1,000 and is a major voice for salmon conservation here in New Brunswick.
Thought for the Week: "If our father had his say, nobody who did not know how to catch a fish would be allowed to disgrace a fish by catching him."  Norman MacLean from A River Runs Through It
Anyone wishing to report suspicious fishing activity anonymously is asked to contact the nearest Fisheries and Oceans Canada office or to call Crime Stoppers at 1-800-222-8477
Until next week
TIGHT LINES
DOUG
The post Miramichi Fishing Report for Thursday, June 29, 2017 appeared first on Giver on the River.