As we end September and begin October, we move into the "Cast 'n Blast" season.  Already some anglers have combined fishing with the hunting of Woodcock, but Saturday signals the opening of grouse and duck season.
Generally, there has not been a Fall run yet, but in the last week or so, there have been slight increases in the number of fish coming in, and they are fresh fish with sea lice.
One camp along the river reported the third best year since the 1980s.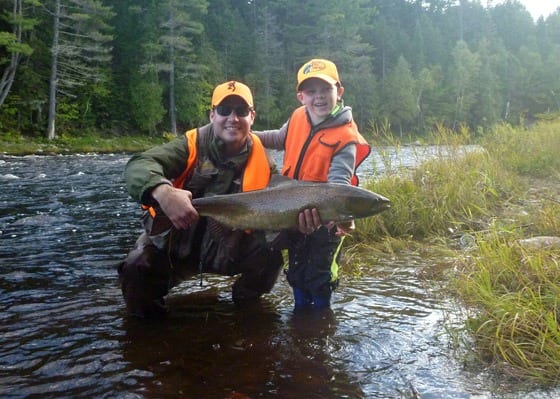 W. W. Doak and Sons in Doaktown said anglers are picking up fish here and there.  Some camps are limiting out while other may draw a blank.  There are decent numbers of fish in the system, but they are not taking well.  The water levels are good, but above Doaktown and on most tributaries, the levels are low and would welcome a boost.  Water temps are good.  There seems to be a good mix of salmon and grilse.  This past week saw some nice salmon caught in the 18-20 pound range.
Flies of choice were Cascades, General Practitioners, Ally's Shrimps, Copper Killers along with the traditional darker flies such as Undertakers, Same-Thing-Murrays, and White-tailed Green Machines.
Derek Munn of Ledges Inn in Doaktown and Mountain Channel in the Rapids area said they were catching a few some days, while other days nothing.  The water was a decent level and temperature.  Generally, they were seeing more salmon than grilse.
Flies of choice were Stone Flies, Undertakers, Smurfs, Marabous such as Green Slimes, and a few Fall patterns.
Herb Barry Sr. of Herb's Fly Shop on the Station Road in Blackville said there seemed to be a lot of fish around, but they were not taking well.  But anglers were catching some.  Guy Sorel caught a nice grilse on the Cains River.  Generally, water conditions were decent.
Flies of choice were patterns which tended toward orange such as Ally's Shrimps, Tippet Shrimps, Red Francises, Copper Killers, LT Specials and General Practitioners.
Curtis Miramichi River Outfitting in Blackville said anglers were seeing lots of fish, but they seemed to have lock-jaw.  However, catching was picking up some on Tuesday.  There was a decent mix of salmon and grilse.  Water conditions were good.
Flies of choice were dark such as Green-butt Bear Hairs, Shady Ladies, White-tailed Green Machines, Stone Flies, Sugarman's Shrimps, along with Ally's Shrimps and General Practitioners.
Jim Laws of Miramichi Hunting and Fishing in Newcastle, Miramichi reported some fish around, but they were not taking well.  Water conditions were good, but a good rain would help.  Anglers seemed to be putting aside Bombers and Dry Flies.
Flies of choice were traditional Fall patterns and dark flies such as Black Ghosts, Bear Hairs, Shady Ladies and White-tailed Green Machines.
Laws said as far as the striped bass were concerned, they were still down river, with only an odd one being caught in Miramichi proper.  Takers seemed to prefer bait to lures.  Traditionally, the later we get into October, the better the bass fishing is.
Syd Matchett of Trout Brook Fly Shop on the Northwest Miramichi said angling was quiet with very few anglers out.  The water was low, but a good temperature.
Flies of choice were shady Ladies, Orange-winged Butterflies, Ally's Shrimps, both red and orange-butt Bear Hairs on smaller hooks such as nos. 8 & 10s.
Debbie Norton of Upper Oxbow Outdoor Adventures on the Little Southwest Miramichi said there were fish around, but they were not taking well or taking short.  They had lost one Tuesday and had several pull or hit.  The water on the Little Southwest was decent, but on the low side on the Northwest.
Flies of choice were Copper Killers and Blue Smurfs.
The Miramichi Salmon Association was still collecting brood stock, and has plans to remove beaver dams later in the fall so salmon can get further up their home streams.
So as we wait for the heavy Fall run, we can take some satisfaction in slight increases of fresh fish, do some casting and blasting as well as take in the beginning of our Fall colours as we get out and "on the water".
Don't forget to show your support for our sponsors, because without them, this column would not be possible.  
Deals 4 U and Northumberland Timber Mart
ANY FINANCIAL CONTRIBUTIONS TOWARD HELPING WITH THIS COLUMN ARE GREATLY APPRECIATED. Click here to donate now. Or to donate by mail, send to:
Doug Underhill
438 McKinnon Road
Miramichi, NB, Canada, E1V 6G2
A SPECIAL THANKS to all who made contributions last season.
If you would like to sponsor this column, give us a call at (506) 352-7668 or email support@mightycommunity.com.
Thought for the Week: "If you fish the wrong fly long enough and hard enough, it will sooner or later become the right fly." … John Gierach
E-MAIL:
Atlantic Salmon Federation News
Thurs., Sept. 22, 2016
ASF RIVERNOTES – First Fall Runs Coming In
~~~~~~~~~~~~~~~~~~~~~~~~~~~~~~~~~~~~~~~~~~~~~~~~
One northern New Brunswick river at least is having a good Autumn run of salmon, and perhaps others are as well. RIVERNOTES takes a quick look at rivers that have been brought back towards health as well.
http://asf.ca/asf-rivernotes-sept-20-2016.html
DFO Study Confirms Widespread Mating of Farmed, Wild Salmon in NL
~~~~~~~~~~~~~~~~~~~~~~~~~~~~~~~~~~~~~~~~~~~~~~~~
DFO Scientist Ian Bradbury discusses the genetic evidence of interbreeding found in 17 of 18 rivers sampled in Newfoundland. This poses a grave threat to wild Atlantic salmon in Newfoundland.
http://asf.ca/dfo-study-confirms-widespread-mating-of-farmed-wild-salmon-.html
ASF Researchers Find Salmon Farm Escapees Keep Coming
~~~~~~~~~~~~~~~~~~~~~~~~~~~~~~~~~~~~~~~~~~~~~~~~
ASF Biologist Graham Chafe notes the influx of escapees into a river in southwest New Brunswick and wonders how many more are entering other unmonitored rivers.
http://asf.ca/research-in-the-field.html
Grieg Takes Advantage of Weak Aquaculture Regulations in NL Says Lawyer Challenging Release of Placentia Bay Project
~~~~~~~~~~~~~~~~~~~~~~~~~~~~~~~~~~~~~~~~~~~~~~~~
Lawyer Oscar Myers explains why he has mounted a court challenge to the project, that would see 11 new farm sites, in the most massive expansion of salmon farms ever planned in Atlantic Canada
http://asf.ca/greig-aquaculture-taking-advantage-of-weak-regulations-says.html
ASF Director Sees Habitat Restoration Work by Canadian Armed Forces Base Gagetown
~~~~~~~~~~~~~~~~~~~~~~~~~~~~~~~~~~~~~~~~~~~~~~~~
ASF Regional Director for NB Programs Nathan Wilbur was shown some of the conservation work being undertaken on the 1,100 sq. km base that encompasses large portions of the Nerepis River watershed.
http://asf.ca/news-from-the-regions.html
Illegal Salmon Netting Brings Fines and Seizures in NL
~~~~~~~~~~~~~~~~~~~~~~~~~~~~~~~~~~~~~~~~~~~~~~~~
With the convictions comes not only a $6,000 fine, but also seizure of ATVs and other equipment.
http://asf.ca/illegal-salmon-netting-and-other-convictions-in-nl.html
Cooke Gets $3.2M Grant to Develop Heated Water Sea Lice Treatment
~~~~~~~~~~~~~~~~~~~~~~~~~~~~~~~~~~~~~~~~~~~~~~~~
With sea lice resistance to drugs now costing the industry multi-millions of dollars, Cooke has been given a grant to develop an experimental heated water treatment system.
http://asf.ca/cooke-gets-3-2m-grant-for-hot-water-sea-lice-treatment.html
Anyone wishing to report suspicious fishing activity anonymously is asked to contact the nearest Fisheries and Oceans Canada office or to call Crime Stoppers at 1-800-222-8477
Want to receive the Miramichi Fishing Report by email?  Click here to subscribe now!
Until next week
TIGHT LINES
DOUG
The post Miramichi Fishing Report for Thursday, September 29, 2016 appeared first on Giver on the River.