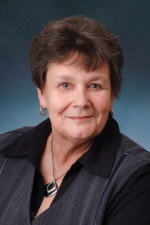 The Board of Governors of New Brunswick Community College (NBCC) is proud to announce that Susan Murchison has been elected as the new Board Chair.
During the Board's Annual General Meeting on June 24th, the annual election of the Chair and Vice-Chair positions took place. Governor Susan Murchison was elected as Board Chair, and Governor Jessica Bragdon was elected to be Vice-Chair, for 2016-2017.
Murchison joined the Board of Governors in 2011 and is currently serving her second term. In the 2014-15 academic year, she was elected the Board's Vice-Chair.
A resident of Perth-Andover and alumna of the Business Administration: Accounting program at NBCC Moncton Campus, Susan has worked in accounting and public practice, and as a public servant.
"The Board of NBCC is committed to providing good governance," said new Chair, Susan Murchison. "A key role of the Board in the development of our new five-year strategic plan is to establish an outcomes-focused model of governance to guide NBCC into the future. We have worked hard during the past two years to evolve our governance to be ever more effective in this respect."
"NBCC is pleased to welcome Susan into the role of Chair of the Board of Governors. With her leadership, the College is poised to embrace the future as we develop our new strategic plan and decide what success looks like," said Marilyn Luscombe, President and CEO of NBCC. "We are also thankful to outgoing Chair, Lois Scott, for her tireless dedication, commitment and leadership as we have worked toward achieving our vision of transforming lives and communities."
Other outgoing Governors are external Board member, Ellen Cook, and internal Board members Greg Curwin and Signe Gurholt.