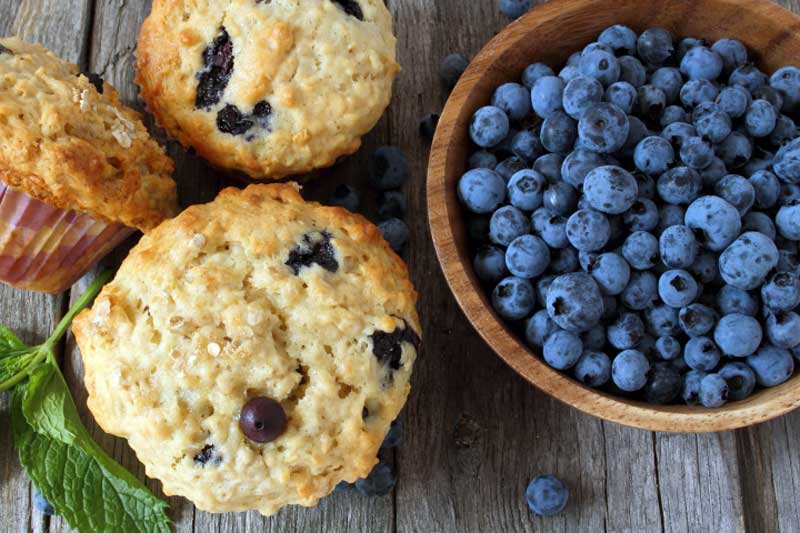 Do you have a favourite recipe to share with our readers? Use the submissions form on Giv'er Fredericton to send it in along with photos of the finished product and a little bit about yourself and why you enjoy making this recipe.
Blueberry Oatmeal Muffins
This muffin recipe was submitted by Darlene Jardine of Barnettville, NB. "Blueberries are one of my favourite ingredients to cook with and I love making blueberry pie, jam and muffins. I pick blueberries every summer and freeze them so I always have some on hand."
Makes 10 to 12 muffins
Ingredients:
1 cup flour
1 tsp baking powder
½ tsp baking soda
½ tsp salt
¾ cup packed brown sugar
1 egg
¼ cup melted butter or margarine
1 cup buttermilk
1 cup oatmeal
1 cup blueberries (fresh or frozen)
-Combine oats and buttermilk in a medium mixing bowl and let stand.
-Combine the first five dry ingredients in a large mixing bowl, stir well.
-Add the eggs and melted margarine to the oat mixture and mix well. Add this to the dry ingredients stirring just until moistened. Do not over-mix!
-Gently fold in the blueberries
-Line or grease 10 to 12 muffin cups and fill 2/3 full with the mixture.
-Bake at 375 F (190 C) for 20 to 25 minutes until the top springs back when lightly touched.
Tip: Buttermilk Substitute
You can sour regular milk to use in place of buttermilk. Put 1 tbsp of lemon juice in a 1 cup measuring cup. Add milk to make 1 cup. Let stand for 5 min, then stir and use in recipe.
Folding
When a recipe calls for folding in an ingredient it is to prevent the batter from becoming over mixed which can result in a tough muffin. To fold, sprinkle the blueberries over the batter. Next, cut down through the centre of the batter with a rubber spatula. Draw the spatula across the bottom and up the side of the bowl, folding the batter over the blueberries. Give the bowl a quarter turn and do it again. Repeat just until the blueberries are distributed through the batter.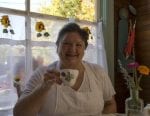 Darlene has had a passion for cooking her whole life. She has worked in the restaurant industry for many years including owning her own restaurant, Darlene's Tea House in Blackville, NB. She currently has renovated the Tea House into a rustic cottage getaway, for rent to guests in the summer (www.DarlenesVintageCottage.com). In her spare time she volunteers at the Greater Blackville Resource Centre. She may be reached at 506-843-7878.