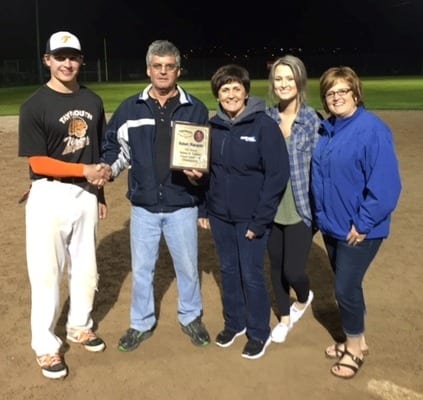 Another successful Robert Blacquier tournament is in the books.
Over the course of the weekend 12 teams from across the Maritimes and Quebec played for the top prize at Nelson's Merle Doyle & Gerald King memorial ball parks.
Though a spot of bad weather threatened the conclusion, with a few tweaks to the schedule the tournament came to a close on Saturday evening with the Taymouth Tigers taking the top honours. This is the second year the Tigers have been successful, having won the tournament in 2015 as well. This year they took the championship by defeating the NB Under 21 Team by a score 9-5.
Tournament chairman Mike McKenzie said that other than the rain he had no complaints about the weekend and pointed to the record number of teams participating, as well as the crowds in the stands, as proof of softball's resurgence in the area. He also wished to express his thanks to the teams, who were understanding of the need for changes to the schedule and patient with the process. He thanked Softball NB's Umpire-in-Chief Andrew Gallant and his crew for a job well done.
Raymond Blacquier, Robert's brother, spoke on behalf of his family and said that it meant a great deal to them to see Robert honoured in this way. Moreover, the many people who attend the tournament and the games themselves are a fitting tribute. Finally, he expressed his appreciation to all of the volunteers who participated in making the tournament the success it was. They very much look forward the 14th instalment of the tournament in 2017.